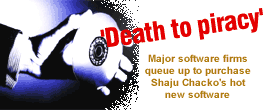 George Iype in Kochi
Kunnapally is a nondescript village in central Kerala's Kottayam district. But a number of high-profile visitors are visiting it these days.

Top executives of major software companies in the United States are turning up to negotiate with a 25-year-old computer programmer who has allegedly created what is perhaps the most solid anti-piracy software ever.
But Shaju Chacko, a diploma holder in software applications, is not selling the product, Divine Logic 2000. At least, not yet.
Richard Szymanski, president of the US-based Nasdaq-listed Redox Corporation who came in from Texas for a demonstration from Chacko says Divine Logic 2000 is first-ever world class solid anti-piracy software program.
"Divine Logic is a brilliant programme. I am rushing back to the US to demonstrate its power to the Software Council of Austin," Szymanski said, adding that it would start a technological revolution.
It isn't only Szymanski who is singing Chacko's praises. James Saks, president of Saks Investment Group, a US-based technology incubation company, too came over to Kunnappally to witness what he described as a superb anti-piracy software application.
While the Redox Corporation and Saks Investment Group have begun negotiations with Chacko to buy Divine Logic and acquire 100 per cent worldwide rights for the software, the young software engineer-- sitting at his modest home with an Internet connection -- is studying ways to patent his invention.
Chacko told rediff.com that he has already acquired a provisional patent for the software from the US and that negotiations are on with software companies to market the product worldwide.
Chacko took two years to develop Divine Logic, which he claims is a foolproof application.
"Divine Logic has been created in two separate units -- Divine Logic and Program Immune Virus -- the first to detect the pirated software and the other to destroy it," he says. The method that he uses is very different from those used by other firms, he says.
Chacko claims the program cannot be detected or debugged using any assembly language.
Once the programme is installed in a system, the application and the installation kit will belong to that system only. No one can copy any illegal applications or software from that system or the installation kit.
Manufacturers can specify the number of copies to be taken from a licensed program included in floppies or CDs and that illegal copying after the specified numbers will be detected and stopped by the program.
According to Chacko, Divine Logic prevents hackers from breaking into the program since they cannot read or modify any file. Moreover, since the new program is part of the application, it is impossible for hackers to remake the entire file.
Divine Logic will also regularly check for the presence of illegal software without affecting the other applications in use, says Chacko.
Top officials of a number of some other major software companies in the US are slated to visit Chacko soon. They apparently believe that the Divine Logic programme can set off a software revolution. Worldwide the market for software piracy is estimated to be nearly US $ 30 billion.
Though software majors have spent billions of dollars on developing anti-piracy programmes, none of them have succeeded in generating a programme that provides complete security. The main defect of existing programs is that their hackers easily break the passwords of these anti-piracy software. Hardware locks are used to curb software theft, but they are often found to be impractical and software tweaks are often made to circumvent them.
The software piracy is growing year after year worldwide. In India alone, 60 per cent of the total software is pirated, according to a study by NASSCOM.
NASSCOM, which recently started an anti-software piracy hotline, estimates that during 1999-2000 software piracy in country will be worth over Rs 9 billion.
Another survey by the National Productivity Council estimates that the value of illegal application software in India works out to be Rs 10.63 billion, which is about 44 per cent of the total domestic software market. The software piracy market grew by nearly 50 per cent in the last three years in the country.
If Chacko's software lives up to its reputation, that industry could soon come to an end.