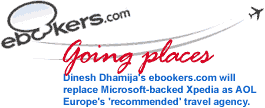 Paran Balakrishnan
Dinesh Dhamija, Britain's new Internet star, has struck a $ 23 million deal with AOL Europe that will take his fledgling web-based travel agency into millions of European homes.

AOL Europe will give exclusive rights to Dhamija's ebookers.com, which will become the only travel agency advertised on the site and its sister portals, CompuServe and Netscape Online.
Ebookers, which is racing ahead to become Europe's biggest Internet travel agency, will replace Microsoft-backed Xpedia as AOL Europe's 'recommended' travel agency.
Dhamija's ebookers was an instant hit when it listed on New York's hi-tech Nasdaq and Frankfurt's Neuer Markt in November 1999. The company raised $ 60 million and its IPO was oversubscribed several times.
ebookers is likely to hold another public issue to raise funds for the AOL megadeal. The travel agency must pay the $ 23 million in two instalments in the coming months and the deal will run for two years.
Says ebookers Chief Executive Dinesh Dhamija: "This is unquestionably the most significant alliance we have negotiated to date. The deal further strengthens the ebookers.com brand."
ebookers will get exclusive rights to advertise airline and hotel fares on AOL sites, including its travel sections. The arrangement must generate a minimum amount of business before the full payment will be made.
The travel agency has a $ 30 million war chest which it is using to fund a pan-European marketing blitzkrieg. Ebookers.com is also spending $ 30 million to buy around 15 travel agencies around Europe that will give it a local presence in each country.
Dhamija is one of Britain's newest Internet entrepreneurs and is now worth around $ 200 million. ebookers, which listed at $ 18, is now hovering around $ 24 on the Nasdaq market.
It has bought five travel agencies since November 1999 that will interface with customers in countries around Europe. It bought Swedish agency STT for $ 3 million in mid-December 1999. It also owns agencies in Paris, Bonn, Geneva and Dublin. ebookers needs to buy travel agencies across Europe which have local agreements with leading airlines for cheap fares.
ebookers is also scouting for travel agencies in Italy, Spain, the Netherlands and other European countries to complete its network. Says Dhamija: "We want to buy one company in each country in Western Europe."
AOL Europe is a joint venture between America Online and German publishing giant Bertelsmann. The company had been looking out for a pan-European agency that could handle prospective travellers across the continent.
Says Andreas Schmidt, president and chief executive of AOL Europe: "This relationship will offer members a wealth of travel information and services to meet all their travel needs."
Dhamija also owns Flightbookers, one of Britain's largest travel agencies, started in 1983. He was worth [pounds sterling] 15 million before the ebookers IPO, according to a survey of Britain's richest Asians conducted in early 1999.
Dhamija started ebookers three years ago as an in-house web site for his 15-year-old travel agency Flightbookers. In February 1999, he turned ebookers into a separate company.
ebookers was oversubscribed 24 times when it listed on the Nasdaq and Frankfurt's Neuer Markt in November 1999.
It handled more than 10,000 passengers last month and its business has gone up 600 per cent since last January when it was still an in-house agency for Flightbookers.
Dhamija has modelled ebookers on US-based Internet travel agencies like Xpedia and Cheap Tickets that are already capturing large chunks of the market. But Europe is far behind and Dhamija hopes to fill this gap.
"Europe is three years behind the US," says Dhamija. But then he's got a fast clock ticking...