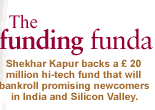 Paran Balakrishnan in London
Shekhar Kapur, the award-winning film director is moving from celluloid to cyberspace and backing a 20 million-pound hi-tech fund that will bankroll promising newcomers in India and Silicon Valley.

Softtechnet, the new hi-tech fund, has high-powered backers, including Kapur and UK-based food baron Ghulam Noon, who made a fortune supplying ready-cooked Indian meals to British supermarkets. David Fischer a vice-president of AOL Europe, is one of Softtechnet's nine executive directors.
The new company is scheduled to go public this month and will list on London's Alternative Investment Market for mid-sized companies. The company had originally planned to raise 20 million pounds but it is being deluged by inquiries and there are indications that it could raise far more.
Softtechnet is betting that it can spot emerging stars in India's hi-tech sector and it will be investing about 50 per cent of its money in the sub-continent. The first investments will begin after the company's March 14 stock market debut in London.
Says Softtechnet's CEO Tony Sarin: "Softtechnet will take advantage of opportunities available in India, the UK and the US in technology, software and Internet industries." Sarin, a London-based chartered accountant, is one of the moving forces behind the new venture capital fund.
Sanjit Talukdar, an investment banker from PNT Capital Advisors, will oversee investments in the Indian market. Talukdar, who started his career at British giant fund manager Foreign & Colonial, is a co-founder of Softtechnet.
Kapur, the director of international hits, including Elizabeth and the controversial Bandit Queen, is collaborating with impresario Andrew Lloyd Webber to bring out a movie version of the long-running play, Phantom of the Opera. He is unlikely to play a hands-on role in Softtechnet but his partnership with Lloyd Webber is, however, bringing him to London frequently. 1The venture capital fund is banking heavily on its close global links with influential members of the Indian diaspora. "The fund will do well because of the network the directors have," says Sarin.
In ideal circumstances, Softtechnet will cut its risks by investing in small or medium-sized companies that are about one year away from a public issue. However, it has not ruled out investments in promising newcomers with a clearly-focused blueprint for growth.
The company will, in most cases, put its money on companies that sell to other businesses. In computer industry parlance, Softtechnet is hoping to deal primarily with 'B2B' (business to business) newcomers, who are considered safer bets.
Softtechnet has also built up strong links with powerful industry figures outside the Indian community. One board member is John Spencer, the former deputy chief executive of investment bank BZW, and another is Harold Gittelmon from venture capitalist 3i. The founders have also persuaded John Standen, former head of corporate finance at BZW, to come on board.