The Cricket Interview/Virender Sehwag
'I have never given a damn who is bowling to me'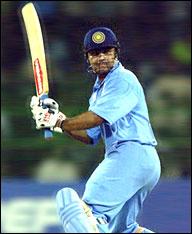 Virender 'Viru' Sehwag isn't a man who looks too far ahead -- 22 yards at the maximum. Sachin Tendulkar thinks he is extremely talented and someone with a special gift; coach John Wright couldn't stop smiling after Sehwag's blitzkrieg against England on Sunday. "Explosive" is how Wright summed up the knock.
After knocking over the English team with his stormy 126, Sehwag spoke about what inspired him to get to that hundred in an exclusive interview with Assistant Editor Faisal Shariff.
John Wright said the other day that if only you could start taking singles when you can't find the fence, you would get a hundred after every three games.
I played my natural game against England. The only difference was that I realized that in the last 13 one-dayers I have scored just a single half-century. Against England I had decided that even if I don't get a hundred I would not pay a rash stroke. I have been making 30s and 40s and then playing rash strokes to get out.
The coach has been talking a lot to you, your team-mates have told me. What did he tell you before the game against England?
He has always told me I have a lot of talent. He asked me to rotate the strike after the first 15 overs and just wait at the non-striker's end. He said by just waiting at the wicket I would get my runs. He told me if I wait till the 40th over, I would get my runs. He always tells me if I bat 40, 45 overs I will get a 150 plus score.
When I was getting out to rash strokes he asked me not to miss the opportunity I have been given.
He said Sachin Tendulkar had sacrificed his opening position for me and that I should make the most of it. He told me not to disappoint Sachin because when he was at the top spot he would get a hundred every third or fourth match. I think that is what hit me the most.
Some former cricketers say you play too many strokes. Don't you fear that playing so aggressively all the time gives the bowler a lot of chance to get you out?
If I had feared them I would not have played the game. I have never given a damn as to who is bowling to me. If I fail twice I know the third time when I get my runs they will be with the same strokes that I got out to. It is not like if I stop playing my strokes I will start scoring in every game. I will get out eventually. So what is the point in changing your natural game? I just enjoy going there and playing my strokes fearlessly. I am sure everyone else does too watching them.
Viru, this is a new trend in Indian cricket -- youngsters play without fear of losing their place in the side.
In 1999 when I played at Mohali and failed to perform I was unsure if I would play ever again or not. I only knew one thing that day -- I would make a comeback.
Now the youngsters who are coming through have confidence they will play and get a fair outing. Our three senior players --- Sachin, Dada (Sourav Ganguly) and Rahul (Dravid) -- have backed us very well.
Our senior players have told us that whatever happens they will fight for us. It makes us feel assured and fresh when we walk out to bat that there is someone back in the dressing room ready to stand up for us.
We are now sure we will get a fair chance and the selectors will also give a full term to prove ourselves.
Earlier, that wasn't the case. We had too many seniors in the side and as a youngster you got only 1 or 2 chances to prove yourself. That is unfair for any youngster. To prove himself he should get at least 5 or 6 games.
Is it embarrassing to be compared to Tendulkar?
It is embarrassing, yet it makes me feel very happy that I am compared to my role model. I don't think I am half of what he is. I do copy him, but his records and his style cannot be touched by anyone. I was and even today I am his fan. I just hope to continue playing like him.
How difficult was it to recalibrate your batting from a one-day opener to a Test opener?
There was no difficulty because I did not change my game. I scored a hundred at Nottingham where the ball was swinging in the same manner that I play in one-day cricket. There is a very slight attempt at restricting some shots but other than that I am much the same.
I have been asked to stay at the wicket and take the shine off the ball so the middle-order batsmen can come in and score their runs.
But as an opener I am different because I am a stroke player. Even by playing your strokes you can take the shine off the ball. I am trying to leave the balls outside the off-stump.
What was the game plan against England on Sunday?
There was no game plan as such. We were chasing 270 and if we had let (Andrew) Caddick and (Matthew) Hoggard get away for 5 runs in their first five overs or 30 runs in their 10 overs then the asking rate would have gone up.
Had we batted first I would have played them easily without going after them but with the target at 5.5 we thought that after 1 or 2 overs we would attack them or else they would sit on our heads.
What does confidence do to a player like you?
It makes you feel light. Even if I fail in four innings now I am sure I will not be thrown out. If you are permanent in the team you are more confident and want to give all you have without fearing the risk of losing your place.
Your name was discussed for the 1999 World Cup, but you were not picked for the Indian team. For next year's World Cup yours will be amongst the first names to be penciled in. How does that make you feel?
I think getting dropped for the last World Cup was the best thing that could have happened to me. I worked on my shortcomings and came back fighting harder. But cricket is a sport where you keep learning every day and improving with every match.
Everyone says Virendra Sehwag does not think, he just plays.
If you have to go for an exam you have to do your homework to know what the exam is about. Every match for me is an exam and I go well prepared for it. Every batsman in the world thinks about his game.
Which is the best team in the world?
Australia is the best team in the world currently because of their bowlers. Even without Steve and Mark Waugh they are winning so easily. I think they will win irrespective of who their captain is. Their bowlers make all the difference.
Which bowler worries you most?
I have played just one game against the Australian bowlers in Bangalore and scored a half century against them. But I think they are very accurate. Compared to bowlers from other countries the Australians are brilliant with their line and length.
OTHER INTERVIEWS FROM COLOMBO:
'We need to bowl better:' John Wright
'My job is to win games for India:' Mohammad Kaif
'All it takes is one delivery to turn things around:' Glen McGrath
'My time to captain Zimbabwe has passed:' Andy Flower
'It's just not in the ICC's interest to undermine India:' Speed
'Batting is very important for me:' Shane Warne
'It's the worst injury I've had in my life:' Brian Lara
'I will be happy with 600 wickets:' Muthiah Muralitharan
ALSO READ:
Player Watch: Virendra Sehwag
Virender Sehwag registers seventh fastest ODI hundred