Dinesh Raheja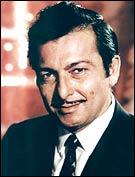 Yash Chopra's latest film Veer-Zaara makes a radical departure from the norm -- the movie's music is composed by Madan Mohan, who passed away in 1975. Chopra has had some of the maestro's unused compositions re-recorded under the aegis of the composer's son, Sanjeev Kohli.
It is a thumping testimony to Madan Mohan Kohli's genius that a filmmaker with Chopra's knack for second-guessing the audience feels his music is still relevant, decades after his heyday. Recent revisits to the past like Dil Vil Pyar Vyar and Jhankaar Beats have paid homage to R D Burman, but never has the entire score of an A-list film been derived from a deceased composer's virgin works.
What is piquantly ironic, however, is the thought that during his lifetime (he died aged just 51 in 1975) Madan Mohan never got the multiple awards or the commercial frontline that his talent so richly deserved.
The 1950s: Sparkling despite the struggle
| | |
| --- | --- |
| | More on rediff.com! |
| | |
Madan Mohan was born to privilege as the son of Rai Bahadur Chunilal who helped helm the affairs of such famous studios as Bombay Talkies and Filmistan. He was always musically inclined and started composing with Devendra Goel's debut directorial venture, Aankhen (1950) in which both Bharat Bhushan and Shekhar yearned for Nalini Jaywant's affections.

The film was a success, Meena Kapoor's song Mori atarwa pe kaga bole, mora jiya dole was very popular (there was no Lata Mangeshkar on this soundtrack) and subsequently, a fair amount of work came Madan Mohan's way.

Among Madan Mohan's early 1950s films was a trio of films starring his childhood friend, Raj Kapoor: Aashiana, Dhun and Paapi. But despite gems like Mera qarar leja, Main pagal mera manwa pagal and Badi barbadiyan lekar, Madan Mohan's work failed to create much impact.

It was with the Ashok Kumar-Kishore Kumar tandem, Bhai Bhai (1956) that the young composer tasted a modicum of success. The score had Kishore's typical Mera naam Abdul Rehman, Lata's Kadar jaane na but the most successful was Geeta Dutt's Aye dil mujhe bata de picturised on seductress Shyama who entices Ashok Kumar away from the homely charms of wife Nirupa Roy.

Unfortunately for Madan, though he became well-known for his felicity in weaving many a gossamer melody like Chaand madhyam (Railway Platform), Aaja kahin se aaja (Samundar), Do ghadi woh jo paas aa baithe (Gateway Of India) and Hamsafar saath apna chhod chale (Aakhri Dao), the films were not commercial blockbusters.

To Madan Mohan's consternation, he found that the topmost heroes and banners had already settled into comfortable grooves with their favourite composers (Raj Kapoor-Shankar Jaikishen, Dilip Kumar-Naushad, Dev Anand-S D Burman) leaving little room for a newcomer, however talented, to elbow his way in.

He may have missed out on providing the music for any of the golden age classics, but two outstanding Madan Mohan scores -- Dekh Kabira Roya (1957) and Adalat (1958) -- established that whatever may be the rat race positioning, Madan Mohan had to be noted as a special prodigy.

The special rapport with Lata
Best songs with Lata
 Film

 Kadar jaane na

 Bhai Bhai
 Meri beena tum roye
 Dekh Kabira Roye
 

Hum pyar mein jalne walo ko

 Jailor
 Yun hasraton ke daag
 Adalat
Woh bhooli daastaan
 Sanjog
 

Aapki nazron ne samjha

 Anpadh
 

Naina barse rimjhim

 Woh Kaun Thi
 

Tu jahan jahan chalega

 Mera Saaya
 

Baiyan na dharo

 Dastak
 

Milo na tum toh

 Heer Ranjha
 

Rasm-e-ulfat ko nibhaye

 Dil Ki Raahein
Husn haazir hai mohabbat ki sazaa
 Laila Majnu
The legendary jugalbandi between Madan Mohan and his eternal muse Lata Mangeshkar began early in his career – with 1951's plaintive Preetam meri duniya mein do din to rahe hote from Ada.
Madan Mohan had this special ability to highlight the tenderness in Lata's voice, which even his elaborate orchestrations could never subdue.
And while they have justifiably earned a reputation for highly emotional scorchers, not all their together numbers were lugubrious litanies.
Lata could sound upbeat in Bahana's Jaa re badra bairi jaa, seductive in Sanjog's Chala hai kahan, jaunty in Neela Akash's Aapko pyar chhupane ki buri aadat hai and perky in Mera Saaya's Nainowali ne and be as easy on the ears as she was in the sombre numbers like Chacha Zindabad's Bairan neend na aaye, Jahan Ara's Woh chup rahe mere dil ke daag jalte hai or Ek Kali Muskayee's Na tum bewafaa ho.
Hitting a high note
By the turn of the sixties, Madan Mohan had acquired a reputation as a composer with class. His successful streak began after his Anpadh (1962) songs like Aapki nazron ne samjha (picturised on Mala Sinha) and Jiya le gayo re mora sanwariya (picturised on Bindu) became the rage.
Significantly, Anpadh's ghazals, Aapki nazron ne samjha and Hai issi mein pyar ki aabroo gave Madan Mohan the sobriquet of King of Ghazals. He had already laid the foundation with Adalat some years earlier through songs like Yun hasraton ke daag, Unko yeh shikayat hai ke ham and the goosebump-evoking Jaana tha hamse door bahane bana diye.
Madan Mohan's famous songs

 Song

 Film

Singers

 Aye dil mujhe bata de

 Bhai Bhai

 Geeta Dutt

Phir wohi shaam

 Jahan Ara

 Talat Mehmood

 Rang aur noor ki baraat

 Ghazal

 Mohammed Rafi

Kar chale hum fidaa

 Haqeequat

Mohammed Rafi

Jhumka gira re

 Mera Saaya

 Asha Bholse

Teri aankhon ke siwa

 Chirag

Mohammed Rafi

 Tum jo mil gaye ho toh

 Hanste Zakham

Mohammed Rafi, Lata Mangeshkar

 Dil dhoondta hai phir wohi 

 Mausam

 Bhupendra

 Main tere dar pe aaya hoon

 Laila Majnu

 Mohammed Rafi
Further commercial success came the composer's way with two Sadhana-Raj Khosla mystery thrillers -- Woh Kaun Thi (1964) and Mera Saaya (1966). Madan Mohla's third outing with Khosla, Chiraag (1969), however, didn't break the bank despite some exquisite tunes.
The sixties also saw Madan Mohan begin his long association with Chetan Anand after the success of Haqeequat (1965) and it continued with Heer Ranjha, Hanste Zakham and Hindustan Ki Kasam. Madan Mohan's Haqeequat composition, Ab tumhare hawale watan saathiyon, was immortalised by Rafi and finds an echo in a new multistarrer of the same name.
A question of aesthetics
Though he never won a Filmfare award, Madan Mohan bagged the National Award for the Sanjeev Kumar-Rehana Sultan starrer, Dastak (1971) which was embellished with glittering triumphs like Maai ri, Baiyan na dharo and Hum hain mataye kuchao.
Madan Mohan's keen sense of aesthetics was widely acknowledged and in the 1970s it was sensitive filmmakers like Chetan Anand, Rajinder Singh Bedi (Dastak), Hrishikesh Mukherji (Bawarchi) and Gulzar (Mausam) who collaborated with him.
And Madan Mohan continued to dish out raag-based Indian music at the time when Dum maro dum was already ruling the airwaves.
It is to Madan Mohan's credit that he remained in demand with discerning filmmakers right up to the end. And it was a fitting irony to this composer's life that the two films that released soon after his death -- Mausam and Laila Majnu -- became resounding musical successes.