| | |
| --- | --- |
| | Article Tools |
| | |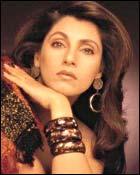 A

fter a two-year break, Dimple Kapadia faces the camera yet again.

Dimple does a Nicole Kidman in Hum Kaun Hai, inspired by Hollywood's The Others. However, the film, like her previous movie Leela, did not fare well at the box office.

Of course, Dimple's fans may not mind that too much, thanks to the ravishing actress.

Dinesh Raheja

profiles the adventurous actress and glamorous grandma.

The eternal headturner


She is the best looking grandmom in films today.

Auburn-haired Dimple Kapadia looked as resplendent as a Botticelli angel in her youth but hers is the kind of beauty that gets only better with age.

One can question Dimple's choice of films (she has ploughed her way through more than her fair share of typically 1980s dross like Gunahon Ka Faisla, Bees Saal Baad, Mera Shikar) but there are no two opinions about her being a headturner and one of the more sensitive actresses that the industry can lay claim to in the 1970s and the 1980s.
Dimple's famous songs

 Song

 Film

Singer

 Hum tum ek kamre main bandh ho

 Bobby

 Shailendra Singh,
 Lata Mangeshkar

 O meri jaan ab nahin rehna

 Manzil  Manzil

 Asha Bhosle, Shailendra Singh

 O Maria, Johnny jab bola tha tujhse

 Saagar

 Asha Bhosle, Balasubramaniam

 Tera saath hai kitna pyara

 Jaanbaaz

 Sapna Mukherjee, Kishore Kumar

 Sulagti hain saansein

 Insaaf

Anuradha Paudwal

 O yaaran tu pyaron se

 Kaash

 Kishore Kumar, Anupama Deshpande

 Mujhe tumse hai kitne gile

 Ram Lakhan

Anuradha Paudwal, Manhar

 O meri jaane bahar

 Ajooba

Anuradha Paudwal, Alka Yagnik, Sudesh Bhosle, Mohammed Aziz

 Yaara seeli seeli

 Lekin

 Lata Mangeshkar

 Dil hoom hoom kare

 Rudaali

 Lata Mangeshkar
I am Bobby. Mujhse dosti karoge?
And for an entire generation, she will always be Bobby. That's the advantage of beginning your career with a megablockbuster.
Dimple was pronounced the 'it' girl in her debut film, Bobby, itself. Master showman Raj Kapoor signed her on when she was barely 14 and did the mahurat of his first directorial film without himself in the cast on Dasshera day in 1971.
Despite having son Rishi as the hero of the film, he gave Dimple an author-backed role. The film created a sensation when it released in 1973. Her expressive eyes effectively conveyed teen angst. And when she emerged nymph-like from the pool in a red bikini, Dimple, despite her puppy fat, had teenagers enthralled. Her knotted polka-dotted blouse and earphone hairstyle were wildly emulated.
The much-senior Raakhee attempted a similar hairstyle later in Muqaddar Ka Sikandar but she looked positively uncomfortable, underlining the fact that nobody could carry it off as well as the teenaged Dimple.
Hello, Goodbye
Dimple was already married when Bobby released! Reigning superstar Rajesh Khanna had swept Dimple off her feet and they had married in March 1973, six months before Bobby hit the screens.
This May-December wedding -- she was 16 to his 31-- resulted in the rude abbreviation of a budding career. Dimple had been in the reckoning for big-budgeted films like Paap Aur Punya and Roti but eventually Sharmila Tagore and Mumtaz played the heroines in these films.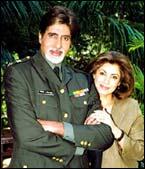 The Rishi Factor
Rishi Kapoor was Dimple's first hero. And when she decided to walk out on hubby Rajesh Khanna after 10 years of marriage and two daughters, Ramesh Sholay Sippy paired her opposite Rishi once again. A triangular love story set against the backdrop of a fisherman's colony, Saagar (1985) also starred the in-news Kamal Haasan.
Unfortunately, the poorly scripted film was unable to revive the Bobby magic. Saagar created more waves before, rather than after its release.
Her comeback pushed the glass ceiling for women
Dimple broke many limitations normally ascribed to the Hindi film heroine. She disproved the popular notion that the audience does not accept a married actress, who is also the mother of two daughters.
After false starts including Zakhmi Sher (1984), Dimple made a thumping comeback with a double role in Mukul Anand's Insaaf (1987). Commercially successful films like Insaniyat Ke Dushman and Zakhmi Aurat further established her position and she was the number two heroine -- after Sridevi -- for much of the 1980s.
She is one of the few actresses to pair romantically with the father-son duo of Dharmendra and Sunny Deol. She paired with Dharmendra in Batwara, Shehzaade, Mast Kalandar and Dost Dushman and Sunny in as many as five films -- Manzil Manzil, Arjun, Narsimha, Aag Ka Gola and Gunaah. The Sunny-Dimple pair, however, could not translate their chemistry on the big screen. Barring Arjun and Narsimha, the other three films proved to be damp squibs.
Dimple is the rare actress who continued to play romantic roles (Mrityudaata, Dil Chahta Hai, Leela) even after her daughter Twinkle made her debut with Barsaat.
Dimple's landmark films

 Year

 Film

Costars

 1973

 Bobby

 Rishi Kapoor

 1985

 Arjun 

 Sunny Deol

 1985

 Saagar

 Rishi Kapoor, Kamal Haasan

 1987

 Insaaf

 Vinod Khanna

 1988

 Zakhmi Aurat

 Raj Babbar

 1989

 Ram Lakhan 

 Anil Kapoor, Jackie Shroff

 1992
Angaar
Jackie Shroff
 1993
Rudaali
Raj Babbar
 1993
Gardish
Jackie Shroff

 2001

Dil Chahta Hai

 Akshaye Khanna
Art-Attack
In her 30s, Dimple exhausted her appetite for playing the pretty prop in hero-oriented films and veered towards parallel cinema.
These films honed Dimple's talent for lending fine striations to complex emotions. She essayed myriad roles -- a disenchanted wife (Govind Nihalani's Drishti), a restless sprite (Gulzar's Lekin) and a professional mourner (Kalpana Lajmi's Rudaali).
As a kind of tribute to her eternal beauty, filmmakers cast her as an older woman who is the object of a younger man's affection in two films -- Dil Chahta Hai and Leela.
Her latest artistic adventure is a supernatural thriller, Hum Kaun Hai.
The Ajooba
Most heroines were able to score hits with Amitabh Bachchan. Strangely, Dimple wasn't one of them. To begin with, Amitabh's ascent to the top coincided with Dimple's absence from the arclights. After her return, Tinnu Anand ambitiously cast Dimple opposite Amitabh but eventually Meenakshi, replaced her in Shahenshah.
Shashi Kapoor finally managed to bring the twosome together in his fantasy caper Ajooba. Dimple's first hero Rishi Kapoor was paired opposite Sonam in this film. But Ajooba sank. Later, Mehul Kumar teamed them in Mrityudaata but the film's failure spelt the end to this jinxed pair.
No Smothering Mother
Unlike Babita, Dimple refused to don the mantle of a star mother cum mentor to her actress daughters, Twinkle and Rinke Khanna.
The girls may not have been able to emulate their mother's success story in acting, but they became highly individualistic independent women. Whether it is in making candles, dressing exquisitely or designing houses, they have inherited Dimple's eye for creative refinements.