Advertisement
January 12, 2005 15:15 IST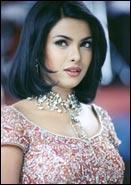 As Bollywood wakes up to the fact that Amrish Puri is no more, film personalities come forward to pay a tribute to the veteran actor.
Priyanka Chopra [Images]
I worked with him in my debut film, The Hero, and my last released film Aitraaz as well.
My mother and I knew him personally. I have still not come to terms with the fact that I will never see Amrishji again. I last met him at the Aitraaz press conference. We knew he was keeping unwell, but certainly not to this extent.
The fact that he came to the launch speaks volumes of his concern for the film industry. A perfect gentleman.
Post your condolences about Purisaab
Shakti Kapoor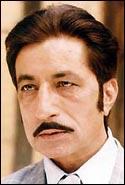 It has been a very sad morning. I am shocked, to say the least. We have lost a noble soul. Amrishji was a very genuine person. He never hid his feelings and was always in the forefront while advising youngsters.
My first film with him was Beshaque when he was not yet a star. The best thing about him was that we saw no change in him when he acquired stardom. I rate his performance in Hum Paanch as the best. I will never forget that scene where he pats his thigh and asks Shabana Azmi [Images] to come and sit on it.

Gulshan Grover [Images]
We started our careers almost together in Hum Paanch. What a fit man he was!
All through the shoot, he would have a strict regime of exercises. Not only that, he used to make all the members of the cast, including Shabana Azmi and Deepti Naval [Images], undergo the regime with him. He never drank or smoked.
I took his advice on professional and personal matters. I thought he would live for 120 years. But God had other plans.
'He could do anything with elan'

Boney Kapoor [Images]
Wherever I go, people still talk to me about Mogambo in my film, Mr India. I don't think that I can ever make a character bigger than that. It's an irrepairable loss. We will never get another Amrish Puri. That dominating voice, those large eyes, that great height...