Advertisement
January 14, 2005 11:41 IST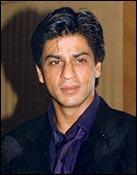 Amrish Puri costarred with Shah Rukh Khan [Images] in some of the superstar's biggest hits like Dilwale Dulhaniya Le Jayenge, Karan Arjun and Mohabbatein. The duo starred in eight films together.
SRK [Images] pays a tribute to the thespian who passed away on January 12.
Amrish Puri was a very integral part of our life. I did my first film Deewana (1992) with him, and many more in my 12-year film career.
He was very close to me, it is a big loss for us. He had a very good personality, was very gentlemanly. He was very humble.
I was not in his age group, but he was younger than us. He was full of life. He would always come early on the sets and work hard. I am too small a person to talk about his acting capabilities. He was one of the finest actors in the country. His death is a loss for us all.
Whenever he met me, he would hug me and crack jokes in my ears. I had a very personal relationship with him.
He was heading an organisation for actors and would always do something for actors.
No one can take his place in the next 500 years. There is only one Amrish Puri in this world.