Women of Substance
Archana Masih previews Sai Paranjpye's latest film, Saaz

Some speculated that the film was based on the relationship between Lata Mangeshkar and Asha Bhosle. It could have been. At least in certain scenes, the resemblance is rather close, if not complete. In Saaz, Sai Paranjpye deals with the lives of two sisters, gifted with beautiful voices who make it big in the music scene. Their humble beginning in small town Maharashtra and their success in the Hindi film world could easily make audiences draw parallels with the two long standing divas of Indian song.
Paranjpye, the story-teller-director, presents the film through long flash-back sequences between Shabana Azmi, the protagonist, and Parikshit Sahni, her psychiatrist. The film examines the complex relationship between siblings competing with each other in the same profession. "Human relationships are my forte. I think I am good at it," says Paranjpye. And through Saaz she traces the sisters's complex journey towards their individual goals.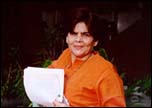 Mansi (Aruna Irani) plays the older, ambitious sister who dissuades her younger sister Bansi (Shabana Azmi) from entering the music industry, fearing a threat to her own position. 'At the peak, there is place for only one person,' she tells the Azmi character.
The daughters take after their talented father, Vrindavan (Raghuvir Yadav), who makes a living singing in village plays. Traces of rivalry between the sisters is evident from childhood. Mansi flings aside a trophy Bansi has won in a singing competition. Their mother's early death and the strain of an alcoholic father forces Mansi to take on the responsibility of her younger sister.

Yadav excels in the role of the village bard and his easy spontaneity and acting skills lead to a noteworthy performance. The heart-tugging scene where Vrindavan is compelled to sing in front of his neighbour's house, drenched in the rain, to earn some money for a drink is one of the most powerful scenes in the film.
After his death the girls arrive in Bombay, where Mansi makes her mark as a singer. Bansi stays at home and leads a protected life under her sister. She marries the man Mansi selects for her and leads an existence marked by constant domestic violence. Eventually, Mansi pays the man to agree to a divorce and custody of Bansi's daughter.
Bansi and her daughter once again start living with Mansi. Finally, Bansi too takes to singing and becomes a success. The sisters get estranged and are united briefly in a programme dedicated to their father. Mansi collapses during the show and Bansi realises that her sister suffers from cancer.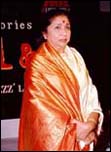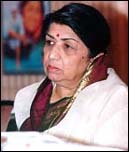 Aruna Irani is impressive in her first non-commercial celluloid venture. "I wanted to cast someone who could stand up to Shabana, who could look her in the eye and emote with equal poise and dynamism. I had admired Aruna's talent for a long time and knew she could carry the script convincingly," says Paranjpye.
The director was unsure whether Irani would agree to play the role as she is a hardcore commercial performer. But when Sai made the offer Irani accepted graciously. Paranjpye, however, confesses that she is wary about casting commercial actresses in her films. "They have a lot of baggage and hangers on," she says.
After Mansi's death, Bansi continues life with her daughter Kuhu (Ayesha Dharkar). Kuhu, who is also an aspiring singer, introduces her mother to a young music director, Himan (Zakir Hussain). Himan adores Bansi, they fall in love and one day he proposes to her not knowing that Kuhu also loves him. Unwilling to hurt her daughter's emotions, Bansi relinquishes her romantic association with her young lover. Himan dies in a car accident and a shocked Bansi loses her voice.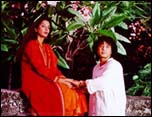 Zakir Hussain -- the ustad celebrated for his performances on the tabla -- is charming in a brief role. Paranjpye is satisfies with his work in the film, though she is not happy with the scene in which he proposes marriage to Azmi. "I would have preferred it to be more intense and delicate," she says.
"On the whole the film has matched my expectations, even surpassed what we expected," says Paranjpye. Saaz has been her quickest script; Disha in contrast took 17 years before the script was finished.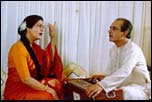 The idea for Saaz came to Paranjpye on her way to the lift to see off Shabana Azmi who had come to see her. "She mentioned why I didn't make a film on the life of a playback singer. And that was the idea."
Azmi once again gives a poised and even performance. The script was written with her in mind for Bansi's part. Bansi's love for song, her daughter's affection, psychiatric help and a flowering friendship with her psychiatrist eventually help her regain her voice. "I am a writer first and then a director," says Paranjpye, "Scripts provide a catharsis for me. I am not an intellectual, I represent the middle section of the audience and these kind of films normally work."
She is satisfied with the response at previews of the film though she adds a caveat:. "All the people who attended the previews have been invited, so they came prepared to like the film. Even if 40 per cent of the theatre audiences like the film, I think it will be a winner."
Saaz is going to premiere on Rupert Murdoch's Star Plus network on June 15. Paranjpye is now working on a television serial on women in rural India. And as always, she picks elements from the common Indian milieu, captures it on her camera and moves on...into the common place searching for more.
Saturday"s Child: Varsha Bhosle on her mother Asha Bhosle.