'Such matters can only be resolved peacefully if we take
the willing consent of the Muslim community with us'
Fifty years after India won freedom, the myth that Sardar Patel was anti-Muslim persists. In this fascinating essay,
Dr Rafiq Zakaria
, the respected scholar, reveals the truth about Patel and India's Muslims.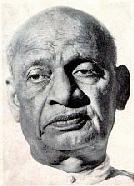 I have no intention of raking up the controversy about the Ram Janambhoomi-Babri Masjid issue; but it has a bearing on the role of the Sardar, to which I must refer because it brings out his non-communal approach on a very sensitive issue. Also, it is in sharp contrast to the attitude of those in power at the most crucial time when the Masjid was demolished in bright daylight under the eye of the law. And with foreknowledge of the authorities.
It proved how hollow was their claim to be the defenders of secularism. They were as guilty, if not more, as the perpetrators of that heinous crime. Their hypocritical stance and deliberate inaction brought shame and disgrace to our nation. I need not go into its history or the various phases through which the dispute was allowed to pass.
In fact it had taken a serious turn for the first time, threatening Hindu-Muslim relations as early as in 1949, when the idol of Ram was installed in the precincts of the Masjid. Pandit Govind Ballabh Pant was then the chief minister of Uttar Pradesh. The Sardar was much worried because he feared the matter might take an ugly turn. The mob might take the law into its hands He, therefore, wrote to Pant, advising him to exercise restraint but at the same time cautioning him that any unilateral act of force by any party in the dispute must be met by force. And that law-breakers were to be given no quarter at any cost.
His letter is of historic importance and has relevance even today, because it provides the guidelines for resolving such disputes, which affect the religious sentiments of the two communities. I am, therefore, quoting it in full:
New Delhi
January 9, 1950
My dear Pantji,
The prime minister has already sent to you a telegram expressing his concern over the developments in Ayodhya. I spoke to you about it in Lucknow. I feel that the controversy has been raised at a most inopportune time both from the point of view of the country at large and of your own province in particular. The wider communal issues have only been recently resolved to the mutual satisfaction of the various communities. So far as Muslims are concerned, they are just settling down to their new loyalties.
We can reasonably say that the first shock of Partition and the resultant uncertainties are just beginning to be over and that it is unlikely that there would be any transfer of loyalties on mass scale. In your own province, the communal problem has always been a difficult one.
I think it has been one of the outstanding achievements of your administration that despite many upsetting factors, communal relations have generally improved very considerably since 1946. We have our own difficulties in the UP organisationally and administratively as a result of group formations. It would be most unfortunate if we allowed any group advantage to be made on this issue.
On all these grounds, therefore, I feel that the issue is one which should be resolved amicably, in a spirit of mutual toleration and goodwill between the two communities. I realise there is a great deal of sentiment behind the move which has taken place. At the same time, such matters can only be resolved peacefully if we take the willing consent of the Muslim community with us.
There can be no question of resolving such disputes by force. In that case, the force of law and order will have to maintain peace at all costs. If, therefore, peaceful and persuasive methods are to be followed, any unilateral action based on an attitude of aggression or coercion cannot be countenanced. I am therefore quite convinced that the matter should not be made such a live issue and that the present inopportune controversies should be resolved by peaceful (methods) and accomplished facts should not be allowed to stand in the way of an amicable settlement. I hope your efforts in this direction will meet with success.
Yours sincerely,
Vallabhbhai Patel
Excerpted from Sardar Patel and Indian Muslims, by Rafiq Zakaria, Bharatiya Vidya Bhavan, 1996, Rs 125, with the author's permission. Readers interested in buying a copy of the book may write to Bharatiya Vidya Bhavan, Kulapati K M Munshi Marg, Bombay 400 007.