Advertisement
May 12, 2005


Seen the Tata Indica V2 television commercial?

Do you love the way the character gets socked every time he opens his mouth? Or even when he doesn't?

Read on to know all about the making of the commercial.

The first in our new series, Ad of the Week:

The Tata Indica V2 advertisement has been on air for the last two months.

One of the most popular advertisements on television currently, it was devised and created by FCB Ulka, the long standing advertising agency of choice of Tata Motors [Get Quote].

According to M G Parameswaran, Executive Director, FCB Ulka, since the launch of the Tata Indica in 1998 the company and the agency have stayed true to the positioning of the Indica as a vehicle which offers 'More Car per Car.'

"It has been the same message that we have conveyed for the last eight years."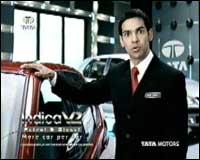 Elaborating on the campaign, Parameswaran says the new ad was launched with the intention of giving the Indica V2 brand a touch of youthfulness.
The brief to the creative team was to create an advertisement that would look stylish and international in feel, while reinforcing the original message of Indica being a value car.
The challenge was also to position the Indica V2 as a fun and lifestyle product and not just as a great value car.
The 'lovable liar', played by actor/model Sudarshan S, was one of the five concepts that were originally presented to the Tata Motors top brass. Sudarshan is also employed at a head hunting agency.
The initial script had three situations but then the director, Rajesh Krishnan of Foot Candles, came up with three more situations, wherein the character gets socked even when he has not said anything.
"The fact that he was thinking about lying or conjuring up another lie is enough for him to get hit," Parameswaran points out.
Incidentally, the idea first was to talk about how Aishwarya had proposed to the 'liar' character, but then to convey the theme of youthfulness and fun the name of Katrina was used.
"To ensure audience participation, the sound of the character being socked is played just before he actually gets it on the chin. This ensured that the audience would anticipate the next hit but in the last situation when the sound is heard the character does not get socked, as for once he is telling the truth about the Indica V2," Parameswaran says.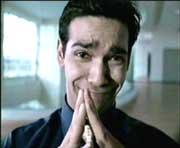 The entire advertisement was shot in five days and to impart an international feel it was shot at the Kuala Lumpur International Airport in Malaysia and also in India, where an entire Tata Motors passenger car dealership was recreated.
The advertisement which has run for the last two months is slated to go on. "There are no immediate plans for a new advertisement. We may pull it out and then run it again after some months as it is still a very popular advertisement," Parameswaran says.
More Specials