Advertisement
January 16, 2008


Bulging pay packets, amazing increments and high-paying job offers. There couldn't have been a better time than the last few years for Indians. But will this high be an unending one?

Much depends on how smartly we adapt to the sweeping and irreversible changes taking place at work -- there are changes in how work is done and also who is doing it and where it's being done.

Most of the changes are dramatic, but few of us have an idea of the total impact of these. More worrying is the fact that our existing training, skills, mindset and our traditional curricula, which mostly involves rote learning, is such that they will keep us ill-prepared to adapt.

To be well-equipped, we will first need to figure out the forces that are changing the terrain. Then, we would need to get an idea of the qualities and skills required to prepare those in the beginning or the middle of their careers.

Our kids, who are yet to begin their careers, can actually get a head start already. Here is how.

Changes in the new workplace

Globalisation and its attendant uncertainties: According to famous author, philosopher and management guru Charles Handy, globalisation, changing demographics and technology are transforming workplaces around the world. As Indian companies, large and small, expand their operations abroad, their employees will have to succeed in markets with new and unfamiliar customers, understand governments and their regulations, and take on international competitors.

With many more things to keep an eye on, Indians will have to be nimble-footed. A crisis in one corner of the world will have international repercussions. The recent global impact of sub-prime crisis in the US housing market is a case in point.

Challenge of a more diverse workforce: The office of the future will be a virtual melting pot when it comes to diversity of employees in terms of age, gender, nationality or nature. Today, more than 80 per cent of India's population is below 45 years of age.

This means that a huge number of Indians will be starting their careers in the next decade. Fast-paced economic growth will mean that the existing talent crunch in India will worsen. We would also find many more Indians working abroad. At the same time, a substantial number of people from other nationalities would come to India.

With experience being at a premium, many people will look to retire later. Better healthcare facilities will keep people professionally active for much longer. Adding to the workforce diversity will be the ever-increasing number of working women, a trend already in place.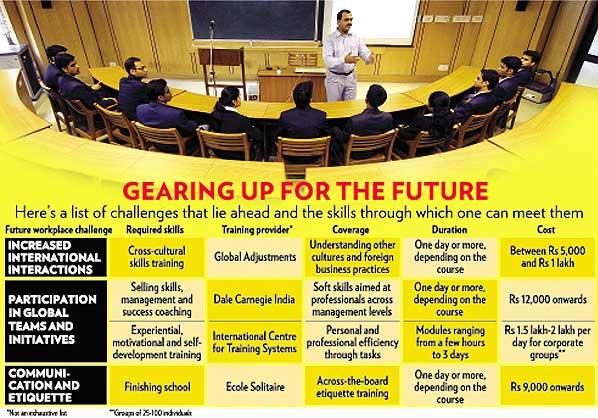 The new categories of white-collar workers will change the cultural tapestry that exists in Indian offices today. Working and succeeding in an such environment will call for different work ethics, cultural sensitivity and soft skills, such as in the area of man management.
Technology and technological nomads: "The future is here. It just isn't evenly distributed," science fiction writer William Gibson had once said. All of us have seen the changes that Internet, cellphones, videoconferencing and other communication facilities have brought about.
Depending on the nature of interaction at a point of time, we can choose among email, text messaging, or simply using the mobile phone.
These communication facilities have also transformed "how" work is done, by making "where" irrelevant in many cases. Today professionals -- programmers, designers, architects, accountants, brokers, or content creators -- can work away from the office, from homes, coffee shops and even airports. These professionals can easily be called technological nomads.
Technology is also bringing about another tectonic shift: In the 20th century, employers hired white-collar workers to accumulate and apply information.
With more and more advances in computing, for instance with global positioning systems, besides online databases and proliferation of Internet sites, information accumulation and application will increasingly get taken over. This would force employees to come with valuable contributions in terms of innovation and experience.
Preparing for Workplace 2010
To cope with the changes in our workplaces, one needs to have an action plan to succeed tomorrow.
Train to be a global citizen: There are two major ways in which you can prepare yourself in a more globalised environment.
First, you will have to remember that you as an individual could be competing with another individual sitting halfway across the globe. For instance, at the moment an Indian knowledge process outsourcing (KPO) employee could be competing with a person with a similar profile in Romania, or South Africa.
If he or his outfit doesn't do well, the job or the business could relocate to another country. Tomorrow, this could be true for more industries.
Second, most of the work in the future will be collaborative. This will involve working in teams constituting members from different nationalities. This is already happening in India, such as in India-based R&D outfits of MNCs.
In many cases, one may have to work with people outside the organisation, such as distributors. Unlike in the past, the efficacy of your work and the growth in your pay will not depend just on your output, but also on how well it contributes to the team effort.
You will also have to constantly specialise in your own area to add unique value to it.
Undergo cross-cultural training: Even as you try to stay abreast on your core skills, you will have to pay attention to soft skills. For this, training on various aspects of other cultures and etiquettes is required for meaningful interactions.
Says Srini Srinivasan, chief HR officer, AMTEX Systems, "In the future, employees would need to think beyond their respective regional zones and become transnational in thought and spirit."
Ranjini Manian, Chennai-based founder and CEO of Global Adjustments, a social and business acculturation company for foreigners entering India and Indians preparing to go abroad, provides such training.
Manian believes that an important part of packaging yourself is being able to work with people seamlessly across nationalities. She says: "Indians need to take cross-cultural understanding on board. This is especially important for those whose work requires them to interact with American, French or Japanese colleagues. Understanding the way others work is critical for an efficient manager."
Manian says that even small things like having a good sense of humour and being able to see the other person's point of view make a difference to the kind of colleague you are perceived to be.
Training modules at Global Adjustments are typically spread over one or more days and offer training on cross-cultural etiquette and relocation. The cost ranges between Rs 5,000 and Rs 1 lakh (Rs 100,000) depending on the training requirements, number of participants and the duration of the course. The outfit has also started an e-learning 'Global Indian' module, costing Rs 3,000.
Take a finishing school course: While cross-cultural training and etiquettes training can help you interact more sensitively with people from other cultures, genders and age groups, you will need to learn technological etiquettes, too.
For instance, etiquettes of using SMS as a tool of business communication.
You can get this training in finishing schools. Pune-based Ecole Solitaire is one such school that covers this and other important areas.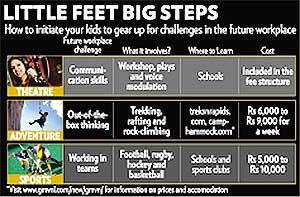 Says Minocher Patel, a motivational speaker, and founder and director of the school: "The existing schooling system and the values people inculcate in their children don't fully prepare them for situations, such as communicating in the right way with a subordinate, or being assertive during a meeting. Not many people know, for example, that not replying to an SMS is considered bad manners. These are no longer soft skills. These have now become hard skills for every modern-day working professional."
Ecole Solitaire trains you in areas, such as perception management, communication skills, management skills, personal grooming, and even dancing and golf-playing etiquette.
The costs range from around Rs 15,000 for 'open programmes' to around Rs 9,000 per head for company-sponsored programmes. There are other options as well, such as Dale Carnegie Training with branches in the four metros and some other cities. It offers a bouquet of training modules -- from sales, customer service skills, leadership, public speaking to effective presentations. These programmes normally last for more than half-a-day and cost at least Rs 12,000.
Sanjay Jha, director, Walchand Peoplefirst [Get Quote], with whom Dale Carnegie Training has partnered in India, says: "It is the HR department's role to ensure that people are trained adequately since training is the best way to reduce attrition and foster loyalty. But don't wait for your company to sponsor you. If you're self-driven, go ahead and invest in a good training programme that suits your needs."
Preparing for Workplace 2030
The changing demands of the workplace need preparation on another front as well: your kids. Says Ashish Gupta, COO, Evalueserve, "In future, companies won't spend so much time and money on training in areas such as English as they are doing now." Here are some tips to give your kids the edge.
Train for uncertainty through adventure activities: A great way to prepare your child for uncertain work situations in the future is to put him in such situations early on. The caveat is that they should be fun. Participating in adventure camps will help kids respond to situations that need out-of-the-box solutions.
As your kid grows up, you need to keep encouraging activities that involve amongst other sport, climbing and rafting. This will help him be more aware of his immediate surroundings.
There are other plus points. Experts say that in future, playful response to situations and problems will score well in uncertain environments as opposed to mature responses that worked well in more stable environments in the past. The costs could vary from Rs 6,000 to Rs 9,000 for a week's camp.
Enhance communication skills through performing arts: Encourage your child to take part in dramatics. Says Abha Adams, a renowned educationist, "Theatre can solve the articulation problem to a great extent." A good seven-day theatre workshop, often held during summer, winter and other breaks would cost below Rs 1,000. Schools also encourage dramatics.
Encourage team sports: To ensure that your child learns to work in a team, encourage him to play team sports, such as football and basketball. This way, he will understand the finer nuances of team building and duties of a team man.
Says Jagjit Singh, director (HR), COLT Technology Services India, "Rigorous team sports are helpful in moulding the minds of youngsters." You can enrol your child in a club that provides training and this can cost Rs 5,000 to Rs 10,000 for a year. A word of advice: don't fully outsource this work to the club. Talk to your kid often about his group experiences to build the team spirit within him.
Make technology a part of your kid's life: Most kids are exposed to cellphones and the Internet. However, your training has to ensure the focus goes beyond games in them. For instance, you can ensure that your kid uses the Internet to do quality homework, or solve his normal queries.
Says Dony Kuriakose, director, Edge Executive Search, "Children will automatically learn things on their own. From storing friend's phone numbers in a program to designing pages on the website, all they need is a bit of encouragement."
You can also acquaint him with the etiquettes for using emails and mobile phones. As kids grow up, parents can encourage them to be part of online communities that apart from facilitating exchange of ideas and information can help them get the experience of managing online professional relationships.
As we move on to the next year, one can't help but wonder at the delicious irony that the future holds for us at work: high growth in an increasingly uncertain environment.
Just as the country made its transition from closed to an increasingly free market economy, Indians, as individuals, would have to focus on becoming more innovative, adventurous, collaborative and emotionally sensitive to keep prospering in the future.
More Specials
Powered by