February 13, 2009


The current happening news in the home loans segment is the new loan rate scheme offered by State Bank of India [Get Quote]. Let us consider the factors involved in this new interest scheme and its implications.

Last week SBI slashed its home loan floating rates to 8 per cent, irrespective of which loan bracket the applicant opts for. Prior to this new offer, the rates ranged from 8.5 per cent to 11 per cent, matched for different loan brackets.

Till April 30, 2009, this happy home loan scheme allows the person who takes a loan in this period to freeze the 8 per cent interest rate for one year.

First-time home buyers will be tempted to buy a house right now as the property prices have also dipped. Such a move from SBI could prompt them to procure a home loan and buy a house right away.

Normally such an offer would have been a brilliant deal for a home loan seeker, but with job losses being the order of the day and media hype about recession looming large, loan takers are sceptical about entering new financial commitments and instead wish to save as much as possible.

Even otherwise, first-time home buyers would still bide time as they expect property prices to dip further in a few months and don't mind the wait to clinch a good property deal.

What about a loan shift? Should existing home loan borrowers shift to this apparently attractive loan rate scheme?

To understand how relevant it is for a new home loan customer and an existing home loan borrower who wishes to transfer his home loan to SBI, let us first consider the significance of these savings over time.

Let us explore the situation to see if the offer is indeed attractive, like it seems upfront.

Let us consider an example to understand this better. Banks will provide an amortization table, which will help you calculate the costs involved.

SBI Home Loan offer: Rs 30 lakh (Rs 3 million) for 20 years at 8 per cent interest rate frozen for the first year and then follows a floating home loan rate of 10.25 per cent.

For the first year at a frozen rate of 8 per cent the money outflow on the loan : Rs 3 lakh (Rs 300,000).

After one year when the interest rate is changed to the current floating rate of 10.25 per cent: Rs 66.8 lakh (Rs 6.68 million).

Total money outflow over 20 years + Processing fee Nil = Rs 69.8 lakh (Rs 9.98 million).

Total Interest paid out for the loan: 39.8 lakh (Rs 3.98 million).

Bank X: Interest rate of 9.75 per cent for the same loan amount of Rs 30 lakh and a tenure of 20 years and a processing fee of 1 per cent of the loan amount, which is Rs 30,000.

Total money outflow over 20 years = 68.3 lakh (Rs 6.83 million) + 1 per cent processing fee (Rs 30,000) = 68.6 lakh (Rs 6.86 million).

Total interest paid out for the loan = 38.3 lakh (Rs 3.83 million).

So opting for the Bank X will actually offer you a saving of Rs 1.2 lakh (Rs 120,000), even after including the processing fee!

This example makes it clear that the interest rate scheme where 8 per cent is frozen for one year, may not actually be as profitable as it appears upfront.

In fact, you might save more opting for a home loan, which is a little bit higher than the current 8 per cent happy home loan scheme offered.

Also, if across all banks interest rates fall further as is the expected trend, one has to think over this offer carefully before opting for it.

Will there be better offers after a year on both the property prices and home loan interest rates that you might lose out on by taking up this offer? These and more questions that may arise need to be clarified before considering such teaser loan offers that more banks are likely to line up soon.

Author's reponse:

Due to overwhelming reader response for this article the author feels the need to bring clarity to certain issues indicated by the readers:

This article was written as a case study to analyse the reality behind teaser loan schemes. SBI's current 'Happy Home Loan Scheme' suited such an example for the analysis. The case study takes into account the current floating home loan rates of all banks for such a comparison.

SBI's current floating home loan rate is 10.25 per cent for a 20 year loan tenure up to Rs 30 lakh. Please refer the screenshot taken from the SBI website given below: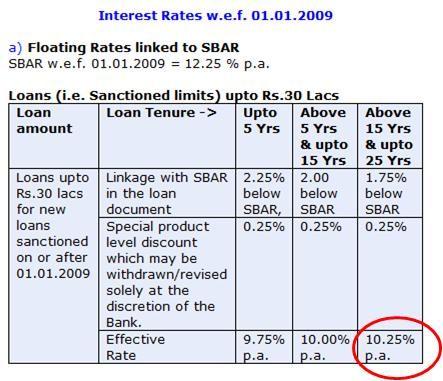 Currently, a public sector housing finance company, LIC [Get Quote] is offering 8.75 per cent floating rate home loan ,  and a private bank, HDFC Bank [Get Quote], is offering a 9.75 floating rate home loan.
SBI is a reputed nationalised bank that has always provided competitive interest rates and it is pertinent to point out that the comparison was not between the banks rather it was to bring to light to the readers that one should look beyond introductory offers to arrive at the actual total loan cost to truly compare various home loan offers from banks.
In this instance, it is clear that an introductory offer of 8 per cent for a year in a 20-year floating home loan rate need not necessarily be better than a 9.75 per cent or an 8.75 per cent floating home loan rate, with other conditions being constant.
Abitha Deepak is Head of Content & Research at BankBazaar.com
Powered by

BankBazaar.com is an online marketplace where you can instantly get loan rate quotes, compare and apply online for your personal loan, home loan and credit card needs from India's leading banks and NBFCs.
More Specials