Advertisement
March 11, 2005 19:08 IST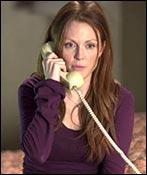 There are two reasons why a flick usually rises above the forgettable -- brilliant pluses or blatant minuses. Quite strangely, in this case it's a mix of both.
Good story idea, intriguing plot, brilliant performances mixed with a flawed script, glaring glitches and a more than laughable climax (and this isn't even a comedy) makes this film something you'd remember, but not for all the right reasons.
This chilling thriller begins with Telly Paretta (Julianne Moore [Images]) grieving the loss of her nine-year-old son Sam Paretta who died in a plane crash 14 months back. With deliberated masochism, she relives every moment by watching videotapes, photo albums and going to places she used to walk down with her son every day.
The plot intensifies when her psychiatrist Dr Jack Munce (Gary Sinise) and her husband Jim Paretta (Anthony Edwards) begin to feel she's delusional and has been forming alternate memories. Her husband and everyone else in the world testify that there never ever was a son in the first place.
| | |
| --- | --- |
| | More on rediff.com! |
| | |
Just when you are beginning to fluctuate between doubting the husband involved in a conspiracy and believing that Telly has actually lost her mind, another twist spins in.

Telly Paretta, in desperation, lands up at her neighbour Ash Correll's (Dominic West) place. His daughter died in the same plane crash as her son, but he neither remembers her nor his own daughter.

She discovers his daughter's drawings hidden behind wallpaper, which helps her restore his memory. From then on the movie is an endless chase with national security agents trailing them, and the couple being able to outmaneuver them each time (whoever recruits such incompetent cops in the first place?) and you don't even want to know who or what is behind all this.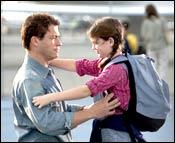 I won't reveal the anti-climax (I mean climax!). My secrecy will guarantee you a good laugh!
Now for the glitches: Trained and highly fit agents lose out to a 40-something editor every single time in a chase, on foot! 
The list doesn't end here but I suggest you go for the movie and test your powers of observation.
Watch it and find out if you remember to forget or forget to remember The Forgotten.