June 07, 2007 15:12 IST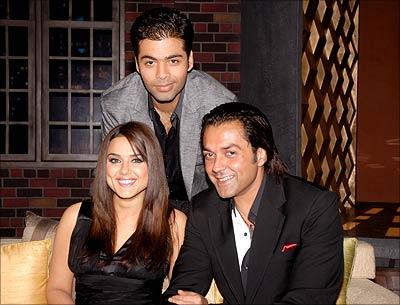 Preity Zinta and Bobby Deol [Images] go back a long way. Even though her debut film was Mani Ratnam's Dil Se, the first film she actually started shooting for was Soldier, opposite Bobby.
This month, they will be back together in Aditya Chopra's Jhoom Barabar Jhoom.
But before that, you will see them on Karan Johar [Images]'s Koffee With Karan.
Preity [Images] chats about her nine years in the film industry, her boyfriend Ness Wadia and how she hated being dragged into a controversy when Shekhar Kapur's [Images] ex-wife Suchitra Krishnamurthy said some very controversial things about her. Preity also spoke of the warm bond she shares with Bobby.
Here's a sneak peek into the show:
Karan: How's life been?
Preity: Life's been good! I just wrapped up a movie Jhoom Barabar Jhoom and now it's ready for release.
Karan: Yes, it's releasing soon and everyone's saying it's looking fabulous. In fact, the promos are on air and everyone's loving them.
Preity: Well, I've had a great time shooting for it. It's been a great experience. First time working with Abhishek -- you never cast me with him!
Karan: Well, you guys were the deprived parties in KANK and those two were having an affair behind your backs. You silly people!
Preity: No, no, no. Jokes aside, working with AB for the first time and working with Bobby after eight-nine years... Lara, I was working with for the first time, so it's been great. I worked with Shaad in Dil Se when he was an assistant and I started off my career then and now working with him. So it's been great!
Karan: When you look back at Soldier, do you think it was just the other day or you feel a lot of time has flown?
Preity: Actually, I didn't feel these nine years, to be honest. It's been the best time of my life. The industry has given me everything and you know people always say, this industry is sleazy, there is a casting couch, people are like this. I think people treat you the way you want to be treated by them. I have never encountered any problem with anybody who's being cheap or sleazy because I have never portrayed myself like that.
Karan: Because you have met very classy and elegant people.
Preity: Like Karan Johar? Like KJ?
Karan: Yeah, so there has been no problem on that end. I'm more of the couch myself rather than being the casting couch.
Karan: Yeh Pritam Singh ka origin bata dena mujhe.
Preity: Bobby, please don't destroy me. Please, I beg you!
Bobby: Well, she's like a guy... like a buddy.
Karan: You two have been friends for a while and you've kept in touch even when you'll didn't work together?
Preity: Yes. Bobby and me have known each other before I became an actor.
Bobby: She would be with us. We would all go out in my dad's van every night and she would be sitting right at the back, quietly to herself. One day, she came up to me and said 'Okay, I'm doing criminal psychology. Can I make you my subject?' And I said to her, look Preity, I would love to but I'm from this family and if I talk about myself and if you say my subject Bobby Deol, I can't do it!
Karan: 
You wanted to make Bobby your subject?
Preity: But, you know, in the beginning, I didn't know Bobby as Dharmendra's son.
Karan: Who did you think he was?
Preity: I swear! When I first met him, he was one of the guys in the group and I had to look for someone between 23-28. I needed five subjects.
Watch Koffee With Karan on Sunday, June 10 at 9 pm on Star One and Star World.