Hitting the high notes
Aparjita Ghosh
There is something about his eyes. It is difficult to break contact as Lucky Ali tries to reach within you, struggling to make contact.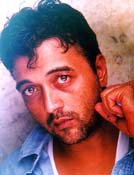 Lucky Ali


Somewhere, in the fuzzy mists of the past, I remember my friend moronically rambling, "Hey, turn on the volume, man! That's O Sanam! Isn't the song fab? Isn't the video fab? Isn't he...?"

Then, it didn't make sense. I had not heard the song. There only thing I knew about Lucky Ali was that he was the son of Bollywood comedian Mehmood. And that almost anyone who could croon a line - musically or not - was into releasing a cassette. There was a suspicious 'me-too' quality about this chap called Lucky Ali.

But his debut album, Sunoh, written off by some as 'sugary pop', has found plenty of listeners. BMG Crescendo, the label under which Sunoh has hit the market, claims that the album has already sold over 100, 000 copies. It is doing especially well in Delhi and Calcutta, with a predominantly female fan following.

It helps that Lucky is an extremely attractive man, who does not look his 38 years. Reserved, but not unforthcoming, he does not behave like a sex symbol. Nor does he come across as someone who wants to be one. "Women," according to Lucky, "are proving a better audience because they are quieter and gentler than men. Which, perhaps, is why they are better able to respond to my music."

Lucky has been nominated for Best Pop Vocalist (male), Best Indian Debut (male), Best Music Video and Best Production Values (for the video of the debut track O Sanam) by Channel V's Billboard Music Awards. He has also been nominated for two MTV music awards, the details of which are yet to be disclosed.

He makes a big deal of the fact that he sings not in English or Urdu or Hindi - the three languages he is comfortable with otherwise - but in Hindustani. "Hindi is," in Lucky's opinion, "a Sanskritised and sanitised version of Hindustani."

Most of Lucky's songs are lilting melodies and the lyrics - though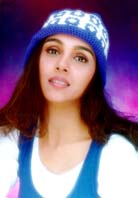 Suchitra Krishnamoorthi


not as meaningless as those of his contemporary Suchitra Krishnamoorthi's Dum Tara - do not break new ground in the field of meaningful popular music in India. What Lucky does instead is to sing lighthearted, pretty songs that are upbeat and reflect the new found hope and peace that he feels in his life today.

Lucky, born Maqsood Ali Khan, is the second of Mehmood's eight children. He also happens to be the nephew of Meena Kumari, one of the great actresses to grace the Indian screen. Half-Bengali and from a family that has been in the industry for years, he did not lack the requisite opportunity to make his debut as an actor.

"As far as doing something was concerned," says Lucky, "I always assumed I would be an actor. As did the people around me." And act, he did. First, in Shyam Benegal's Trikaal, where he played Erasmo, the young Portuguese doctor who comes home to get married. He worked with Benegal again in Discovery of India, in which he played Ashoka's brother Tissa, who was instrumental in drawing him towards a path of non-violence.

In more recent times, he also acted in the television serial, Zara Hatke. "I did not enjoy the experience, though," confesses Lucky, "because of production hitches, delays and other problems on the set." The producers were unavailable for comment.

Ali is not an actor in the sense of someone who pretends to be something he is not. "I have always played myself on screen; this has always been reflected in my choice of roles. When I played Tissa and Erasmo, I was at a stage in life where I could identify with both these characters."

Shyam Benegal remembers Ali as keen and hardworking. He not only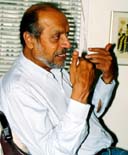 Shyam Benegal


acted in Benegal's projects, but also assisted the director when he was making Susman. "Lucky," recalls Benegal, "was a good actor but could not get into Hindi commercial cinema because, in those days, he had one leg in movies and one in music." Lucky, apparently, used to sing on the sets but was never taken seriously.

Though he has been keeping a low profile about his famous father, Mehmood is not as reticent about his second-born. Lucky's drug abuse problem, and his consequent feeling of helplessness, apparently led Mehmood to write the script of his forthcoming film -- Dushman Duniya Ka (Enemy of the World). The movie stars Ali's youngest brother, 21-year-old Manzoor.

Then called Lucky Boy, it is the story of the degeneration of a young man - not surprisingly called Lucky - as a result of his drug addiction. Mehmood saw only one suitable ending for the movie: Lucky debases and destroys himself and everyone he loves for the fix he needs. Eventually, he even kills his mother whom he loves very much.

Ali was furious with his father's vision and refused to act in the movie. "I felt the story lacked hope," says Lucky. Mehmood, however, felt that any other ending would weaken the impact of his message. With father and son at loggerheads, the project was temporarily shelved.

Meanwhile, Lucky worked on a horse farm and an oil rig, acted in films and television, and ran a carpet-cleaning business cleaning carpets with his friend Aslam. The latter, incidentally, penned the lyrics for Sunoh.

All these activities kept Lucky on the move. As he talks of himself,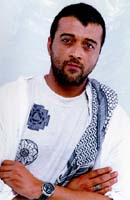 Lucky's new look


Lucky's eyes compel you to understand that this is not just the story of uncertain talent waiting to find recognition. It is, rather, an expression of the realisation that it is only too easy to sit back and accept a life of mediocrity.

This may have been the reason Lucky ran away from his home on his father's farm in Bangalore every once in a while. "But I would return," recalls Lucky, "frustrated, again and again, because the answers were not out there but within me."

This search led Lucky Ali to a horse farm in Kentucky, to Bombay during the riots, to literature - Kant and Nietzche and various religious texts - to religion - he was a Jehovah's Witness for four years.

He is back home now and seems to have found some measure of peace in the religion of his birth. It is this faith that he reiterates in the S D Burman-inspired song, Tum Hi Se in his album.

Perhaps the seeds of acceptance of orthodox religion were sown in him during his early years at a Catholic boarding school in Mussoorie where he was sent when he was only two-and-a-half years old. This is also what made his eight year association with marijuana a guilt trip.

He calls himself a social smoker on hindsight and, yet, he suffered guilt every time he smoked. This, in the day and age, when the president of the United States can admit to having smoked a reefer or two.

Lucky attributes the guilt to intent. "Smoking was,"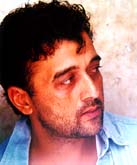 he says, "more of an act of rebellion, than of recreation or escape." On the whole, the experience confused Lucky and caused him to withdraw more and more into himself.
Marriage, two years ago, proved to be a stabilising influence. His wife, Masoom, who features in the video of his first released song Sanam, is a New Zealander who, it seems, has embraced Islam and the purdah with equal fervour.
Lucky, today, is a keen Muslim and his faith is apparent in his choice of name for his son who is now eight months old - Ta'Awwuz: I seek protection in Allah. He is now settled in Oakland, New Zealand, where he farms potatoes in between working on his new album.
He is also working on music for a few Bollywood films but prefers working on his own, minus pressures to perform and deadlines. Lucky's fetish for perfection means that Sunoh was four years in the making. It took that long to gather the finances, settle on the lyrics and actually produce the album.
Sunoh was recorded at what is now called the Trident Studio in England. This was the same studio in which another Indian, Firdaus Balsara, aka Freddy Mercury, recorded Bohemian Rhapsody with his group Queen. The Beatles, too, recorded many of their tracks here. The final result is something Ali is totally satisfied with.
Strangely, most people who have heard Ali on television, remember the video shot on location in Egypt by Mahesh Matthai. Lezz and Hari of Colonial Cousins and Shyam Benegal remember the video, but Ali himself does not seem to have left any real impression.
It does seem unfair to judge an artiste by one sample of his work and, though the fare is not exactly varied, Sunoh has found its niche. In the final analysis, Lucky's music, is as Benegal classified it, sweet, but will it stand the test of time?
Tell us what you think of this profile