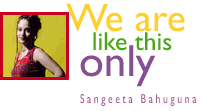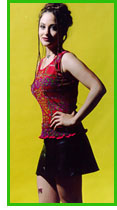 If you're young, remotely Indian, have had an international upbringing, are good-looking to boot and if you are now keen to renew your contact with the Motherland, then a brilliant future awaits you in the Bombay music television industry!

Ruby Bhatia, Kamal Sidhu, Luke Kenny, Rajeev Datt, Laila Rousass and, now, the latest entrant on the VJ-bandwagon - Natasha Mago. Back after 11 years in the West, it's quite surprising that this one comes completely unaffected and accent-free, to host MTV's latest chat show MTV Graffiti.

Definitely not part of the industry's Anorexic Brigade (she is some pounds heavier than what they would consider their maximum tolerance level), Natasha seems very comfortable being herself. Perched in her dressing room in Famous Studios, Bombay, just minutes before she steps before the camera, she is casually dressed and very relaxed. The goo she has to wear on her face has not been tested on animals, she would have me know.

Packed with opinions, attitudes and experiences that are amazingly mature for her 22 years, Natasha has hopped countries, changed jobs, switched from being behind the cameras to bang in front of them - all in order to avoid becoming "predictable, boring and stereotyped".

Born in Bombay to an Indian father and a mother who is half-Scottish and half-Russian, Natasha moved with the family to England when she was 10. "Drama was my first love," she confesses. She became a student of drama at the age of 15 and has the rare distinction of having worked in several West End productions.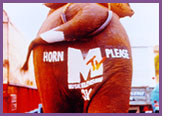 After completing her A-levels she moved to the University of Miami, where she did a double major in film production and drama, veering more towards film now because of a desire to make ace documentaries! At the University, she became comfortable with 8mm film and film technology, handling projects from scratch to finish - including scripting, direction and post-production.
This was followed by a stint at the New York University, where she went to study the art and technique of film-making at the TISCH School of the Arts. And she believes that this hands-on experience of the medium is detrimental to her career as a VJ, as it makes her extremely critical of her performances in front of the camera!
About a year ago, she got involved for a short while in a project which she claims "changed and humbled me". Shortly after Schindler's List, director Steven Spielberg began to put together Shoah (which, in Hebrew, means survivor) - a visual history foundation which documents every possible piece of information about the survivors of the Nazi holocaust. She sent in her application and, after an endless series of tests and interviews, was selected.
"I was selected for my ability to empathize and research well. I felt privileged because most of the others who were chosen were either Jewish or they were journalists, therapists or professional researchers." This was followed by an intensive training session with seminars, lectures on history and mock interviews. She never did meet Speilberg himself in the four months she was there, but saw enough examples of his dedication to the Foundation to come away impressed.
The work itself involved going with a cameraman and a camera assistant to meet Jewish victims of wartime atrocities. "There was no script and, at times, an interview could go on for up to five hours. The tapes are sent back to the Foundation, unedited."
Tell us what you think of this profile CONTINUE