Uptown Girl
Bian Lobo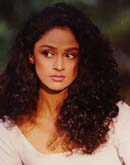 Nineteen ninety one. The spotlight focussed on one individual, one album, one single that left the crowds either speechless or screaming for more. That triumphal moment touched a pinnacle in fame and fortune. And success wallowed at the feet of Suneeta Paree Rao.
Then, it was over - like a flash in a pan. Success, that momentary mistress, ditched her for other shores. Five years passed - years in which a non-existent Indian pop industry grew in lucrative leaps and bounds. Of Suneeta, though, there was little sight (at the odd TV programme) or sound (Paree on FM, Channel [V] or MTV).
Ever since she hit big time, her fans waited almost exhaustingly for her new release. And just when even the most patient were ready to give up hope and abandon the wait as futile, there was a breath of fresh air - Talaash.
"Dehka dehka hai, meri jalwon ka nasha, bach na paye ga, tu yahan..." Such are the lyrics that characterise Suneeta Rao's latest album, recently released by HMV. Dedicated to Talaash or the eternal search for happiness, peace of mind, a life partner, challenges, answers... the album has eight theme-based soul-searching songs.
Dehka Dehka, a fast-paced fiery number is, at the moment, sizzling the video charts on various TV music channels. The rustic Kesaria, Dewangee and the title track Talaash are, on the other hand, emotional tunes. All of which have, embedded in them, a deep meaning.
And Suneeta is in the limelight once again, hitting the music headlines. But behind the voice lies an individual, behind the music lies a message. She realises her responsibility and uses her music as a medium to pass a message, "It's very important to love yourself and respect yourself. Know your responsibilities and don't take anything for granted. And, of course, party on!"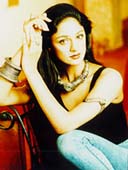 Singer, model and stage actress Suneeta Rao was born in Germany to Dr D K Rao and his wife Komala on April 5, 1967. She arrived on Indian turf two-and-a-half-years later to school at Bombay International and pursue her higher studies at St Xavier's College.
Her mother was a professional Indian classical singer - "In fact," says Suneeta, "if my mother had not opted for motherhood and had the four of us, she would have wiped the floor with everyone around here." - and it wasn't long before young Suneeta took to music with a professional zest.
"As a child, I always commanded attention, making my presence felt as I sang with a make-believe mike in hand," she laughs. "I was an excellent student and, since my school stressed on extracurricular activities such as singing, it was natural that I became a performer. Even if I didn't have these options, I would've become an actress because I am a performance person."
But the practical young lady didn't expect things to just happen for her. She had a dream and she intended to realise it. So she began learning Carnatic vocal music from P V Shankar, followed by lessons in Bharatanatyam and Jazz Ballet.
Suneeta's career began with modelling and voice-overs for an endless list of commercials including Wheel, Thums Up and Rich Cafe. In search of a satisfying target, she explored new fields and acted in plays like Evita, Grease Lightening and Bottoms Up.
Her first break, though, came only in 1989, when Louis Banks invited her to appear on his nationally televised show Pop Time. It was a lucky break; a little while later, she released a Hindi pop cassette entitled Suneeta Senorita.
Though she continued to sing for various programs and act in plays, her career as a singer had taken off. In 1991, she released Dhuan, the album that would rate her as one of the India pop diva. Then, Paree took the country by storm, selling over 75,000 copies. When both Paree and Dhuan topped the Indian charts, Suneeta knew she had made it!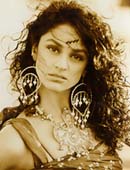 But the question still remains - Who is Suneeta Rao? "She's a very affectionate child, very..." says her father, trailing off with a touch of warmth in his voice as he tells me about his youngest daughter, the third of his four children.
Suneeta, I learnt, is an extremely balanced individual who divides her time between being an extrovert and sharing quality time with her family and close friends. "Everyone treats me like a baby and I love it," she giggles. "I have a very close-knit family. I owe my parents a lot and, honestly, I don't know where I would be without them."
One begins to understand why this obsession with music is not restricted to her alone (her siblings are also pursuing careers in music). Elder sister Kalpana has settled in Switzerland with her own band, Just Two. Aarti, who is more into jazz and blues, has her own gig in Bangalore. Brother Narisimha plays the guitar and a couple of other musical instruments. While Suneeta herself plays a bit of tabla, "I cannot play any other instrument. I'm have to learn the keyboards soon, otherwise I will not feel complete as a musician."
Though Suneeta's love for her family is overwhelming, I still wondered what she treasures most about herself? "My honesty," she says firmly, "and my forthrightness... I hate hearsay. Also, energy cannot be ignored, whether it's in conversation or on stage. But, most of all, I like my love for life."
Life as a popstar isn't all about glamour and fame; it's hard work coupled with a fast-paced lifestyle. Suneeta's way of coping? "A good telephone chat with an old friend or staring for hours on end at the sea. I adore nature and, luckily, I live next to the sea."
She describes a pop star's life as "hectic and exciting, with each day totally different from the next. I never know what to expect next. I guess you can say it's like organised chaos." But her voice betrays her passion for the excitement of being 'centrestage'.
Suneeta's music has also made waves in countries like Bangkok, Singapore, Dubai, Muscat, Abu Dhabi and South Africa. Her most favourite place, though? "Africa. I want to buy the place."
And her next move? The svelte lady is moving pretty fast now. She will be performing at Channel [V]'s Viewer's Choice Awards on November 30. Though Remo, Anaida and the Colonial Cousins are also participating, Suneeta's performance will be different. She will be using a choir, One Voice, as her background vocals.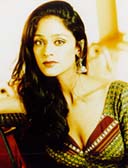 She has used One Voice, conducted by Nigel Vincent before, in another show called The Other Side Of Suneeta Rao. "Normally, I do my own background vocals with my sister Aarti. But I believe that One Voice will give body to my music. I also prefer live shows to recordings because there is nothing like having the audience right before you. I would also like to direct someday."
Suneeta is a success story, but she does not take anything for granted. "I still have a long way to go. But, for now, I am my own agent; I make the decisions. I know it takes talent, hard work, discipline and luck for anyone to be a success."
Many look up to her but Suneeta herself says, "There are so many people I look up to. Human beings should, I think, learn from one another. Giving and sharing are the plus points of being on this planet and I look up to anyone who has a love for life, has done what s/he has to, achieved a little bit of success and has not taken life for granted."
Amidst the short pauses and delays that interrupted the interview, I got a glimpse of a well-balanced person who contemplated before she spoke, who has learnt life and the music business well enough to supercede it. I got a glimpse of the Suneeta Rao who knew what she wanted in life and didn't hesitate to go out and get it!
Tell us what you think of this profile