The forgotten fishermen of Kasba
R Ayyappan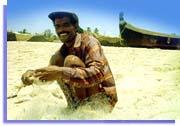 It looked like a wonderful painting. Still and serene. A calm blue sea, dotted in the distance with numerous trawlers. The azure sky, a huge dome-like roof over water and earth, untouched by a single cloud. Hundreds of fishing boats lined up on the yellow shore, their tips straining towards the waters, imparted a dose of melancholy to the portrait. Nothing moved, except the disinterested idle waves and a cool comforting breeze.
Suddenly, a man emerged from the waves, tugging his fishing net behind him. He squatted on the shore and started spreading his net to remove his catch of five fish. I walked over towards him apprehensively; this, after all, was Kasba, the most backward area in the most neglected district of Kasargod in Kerala. And the people were, naturally, the roughest.
Narayanan, shining sea water dripping off his hair and moustache, looked as miserable as his lean catch, "It's hard, very hard. This is not our season. I have to work from five in the morning to four in the evening to earn at least Rs 25."
The waves were becoming restless.
And Narayanan, the lone fisherman, struggled in the exhausting heat. "Our boats are idle since we don't go fishing these days. But I am in dire need of money. That's why…" It's not that others are well off; it's just that they are not as desperate as him. "For them, money loses value in front of a glass of arrack. And saving is not thought about in their community," says a senior official from Matsyafed, a state government organisation set up for the fishermen's welfare.
How, then, do they manage during the off season? "They borrow," was the succinct reply. They borrow, at high rates of interest, from the owners of fertiliser factories set up in the vicinity of Kasba. Who then buy fish from them at a low price. The factories make profits running into hundreds of thousands of rupees and offer loans to fishermen on demand.
Matsyafed officials are aware of these realities, but have still not struck at the root of the problem. There was a proposal before the municipality to set up a fertiliser unit under the fishermen's co-operative society. "Since the work is seasonal, it is impossible to organise this undisciplined lot around a part-time industry. Also, this can be done only by private parties," says the Matsyafed official, even without giving it a try.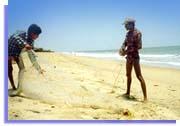 Can't they organise an awareness programme listing the advantages of saving money? "These people won't listen, they don't understand," he said.
It is 1030 hours. The fisherfolk took up places on the shore and started defecating. Narayanan, who was gearing up for his next attempt, did not seem worried about possible contamination. "The waves take them and, since the sea has a flow, it is safe." But his confidence seems hollow because human faeces, in the beaches of Kasba, are as ubiquitous as sea shells.
A health report, prepared by the municipality several years ago, reveals that the area is infested with dangerous diseases like dysentery, pneumonia and cholera. The authorities are now seriously considering constructing public toilets, even if their concern is selfish. "There is a lighthouse and a park at the end of the Kasba enclave, so we don't want tourists to tread ugly beaches."
By the time Narayanan returned with his catch, the beach is crowded with men relieving their bowels. "Big foreign boats, with their kilometre long nets, will make life more difficult for us," he panted, as he advised me to meet the sthanikal (leaders). "They will be in the temple," he yelled over the crash of the waves.
The Saraswathy Devi temple is the centre of activity for the Dheevara fishermen and the 13 sthanikal -- who are appointed for lifelong terms on the basis of good character and hard work -- are the spiritual and social godfathers of this close knit, homogenous community. After getting elected, they don a white mundu, place a white towel on their shoulders and wear a big gold ear-ring shaped like a bird cage. Their duties include performing the rites of the temple, settling disputes ranging from divorce to robbery and imposing punishments that could be anything from severe physical torture to minor fines.
The illiterate fishermen are so dependent on the sthanikal that they ignore legal institutions like courts and police stations. "We are not educated, but we want our children to study and get government jobs," muses the oldest sthanikan, sitting cross-legged on the temple veranda. But if the children study, who will do the fishing? "We don't know," was the helpless answer. "The sea is our life, but still we want to educate our children."
Even now, it looks like they may be unable to use their boats during the coming monsoon, the chakara season. For the kerosene quota for motorised vessels will no longer be available to those whose engines are more than five years old. Until, according to the new government rules, they buy a new engine.
Most of the fishermen who own engines that are five or more years old have not yet finished paying the interest on the initial purchase. No one knows why this rule was implemented. Admits the Matsyafed official, "It is cruel. The engines remain in good condition even after 10 years. Moreover, this is not Japan where you throw away engines after one or two years."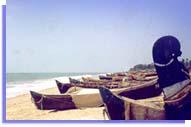 "We use to operate our boats manually. Then the government came and told us that using Yamaha engines will ease our problems. We listened to them and, now, the interest is killing us. To add to that, they have stopped supplying kerosene and are asking us to buy new engines," fumes a sthanikan.
What about reverting to the system of manual operation? "The men who go fishing now are not used to manual rowing. And it is impossible to fish in a boat, unless all its 30 rowers maintain the same speed."
A jeep announcing the screening of Meena, an old Malayalam film, creates a small commotion outside the temple. Unmindful of the youth jostling around the jeep, an old woman finished loading her second basket of dried fish into an autorickshaw. "She is going to the market to sell the fish. The auto charges Rs 10 per basket," someone commented.
Have they no Matsyafed transport buses? "Leave alone the Matsyafed buses, there no transport bus to Kasba," shrug the sthanikal. The well-tarred road, which brings tourists from Kasargod to Kasba and could be the road to the fishermen's prosperity, stares mockingly at them.
The families could save a lot of money if Matsyafed arranged a bus to take them to the market. "True. But these unruly people don't want to get into a bus. They just can't take the pains to wait for a common conveyance. When their baskets are full, four or five of them team up, call an auto and rush to the market," says the Matsyafed official.
Granted, the fishermen are thoughtless and impulsive. But should an organisation set up for their welfare be so mechanical in the discharge of its functions? Besides disbursing loans and collecting interest, its duty includes making these people aware of their rights and responsibilities. If fisherwomen in Thiruvananthapuram can climb a Matsyafed bus, there is no reason why those in Kasba cannot.
The ostrich-like attitude of the Kasba residents doesn't help matters. Consider this exchange for instance: "Do you know why the government has lapsed your kerosene quota?" "No." "If you don't speak out, what will you do when the monsoon arrives?" "I will break my engine into pieces and go away," an old fishermen says furiously. The others nod approvingly.
And a disinterested administration makes no effort to improve the situation. "Kasargod is the dumping ground for bureaucrats. Eighty per cent of the top officials have come here as a result of punishment transfers and spend all their time pulling strings to ensure their transfers to better districts," says Sundar Rao, vice-chairperson of the Kasargod municipality.
Is Kasargod such a hellish posting? One government official puts matters in perspective: "There is no water, no accommodation, no quality education system and no good food. You will be flattering Kasargod if it is described a hell."
As I leave the beach at sunset, I saw Narayanan cleaving the waves with his net. His struggle for Rs 25 is not yet over. If Narayanan and his community are allowed to continue on their destructive ways, Kasba will become a remote memory, framed in the museum of time.
Tell us what you think of this feature