For the alternately able
Shobha Warrier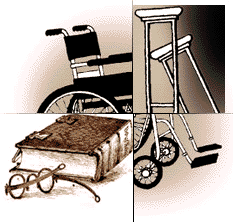 You have many magazines in India -- for men, women, gays, children, businessmen, architects, NGOs, socialites, the politically-motivated, the disabled...
Uh oh, correction. Just one for the disabled, Ability.
Happened long ago, this. This young girl was having fun on a swing when she slid off somehow and her head smashed against the concrete floor. Stunned and hurt, she did not immediately appreciate the novel silence that surrounded her. She arose, and after the mandatory period of crying, wandered back to her swing.
A few days later her mother called her when she was in the garden. The child didn't hear it. The sound waves ran up the tiny ears all right, and knocked at her eardrum. The vibrations ran up, through the incus, malleus and stapes, to finally wiggle the cochlea beyond. The hair cells on this snail-shaped unit quivered in nervous excitement. Awakened, the nerves on it took charge... But thereafter something went wrong. Even after the electricity had spent itself within the brain, there was no response, no resulting activity in the hearing center, the frontal cortex, nowhere. The girl, Jayashree Raveendran, was now deaf.
Her parents couldn't believe it first, couldn't accept it later. Desperate to make her "all right" they drove from physician to paediatrician to psychiatrist to therapist. And failure only goaded them to further effort.
"I am all right. I do not know the meaning of the word 'all right'. And what I don't know, I don't miss," she told them. Mistaking it for fatalism, her parents didn't listen. Not till they had to...
Like other young girls she dreamt. But, unlike them she did not harbour fancies stimulated by imagination and hormones. Instead, maybe as hopelessly, she looked forward to a day when disabled people would not be non-violently persecuted, where they would be considered people first, disabled later. Not damaged goods that can't be dumped in a bin. She knew what she was doing when she set up Ability.
Blind Dr Subramaniam might have ended up a singer. But with his parents's support, he became a journalist and the associate editor of The Hindu.
Chandra was twelve years old when her doctor told her mother, "Okay. Enough of treatment. Educate her enough to make her a typist or clerk." Chandra's mother ignored the advice, carried her from class to class, did practicals for her, studied with her, even learnt to drive a car for her. Now Chandra is professor of microbiology at the Indian Institute of Technology, Madras. Even during her Ph D interview, a professor asked her in genuine confusion, "Why don't you learn to play the veena instead?"'
Still another example. Dhruva, a spastic who also suffers from dyslexia, was advised to give up studies and maybe became a petrol pump attendant, despite his IQ of 110. Dhruva graduated, got a job in India Cements, married and now has a son. Maybe he could have been happier as a pump attendant but he looks satisfied enough now.
"The focus," says a passionate Raveendran, "is always on what a child cannot do and not what the child can. In the bargain, the child's natural ability is overlooked. I wanted to shift the focus to the ability in them and not the disability. Physically disability is not tragic; what is tragic is public prejudice," she says.
After completing her post graduation and M Lit in English literature, Raveendran worked first as a creative writer in an ad agency, then as a lecturer in the Indira Gandhi Open University and later, as an assistant editor in an international magazine.
"I can see, think, dance, write and lecture like any other intelligent woman. That was when I began to think, 'If I could achieve so much in life, if I could study and work in diverse fields even when my world was silent, why can't others too?' I thought about this for a very long time."
Many people keep thinking, and keep doing whatever they are all their lives. But finally, in 1995, Raveendran quit her well-paid job and started Ability, to instil confidence in the disabled, to make them believe in themselves, and to encourage them on to greater effort.
"It is unfortunate that in a country where there are 50 million disabled people, there is not a single magazine devoted them? Yes, we have hordes and hordes of colourful, glossy magazines for women, for film stars, for politicians, for sportspersons, for health fanatics, but not a single one to cater to the needs of the disabled. Where will they turn to for good information, for inspiration and consolation?" To Ability, of course.
This is where, unlike in society, a disabled person is looked upon with pity, as handicapped beings only.
"Society always looked suspiciously at those who looked differently, walked differently, talked differently. A blind girl receives only pitiful glances; no one admires her beauty. People even comment about a blind person's disability in front of her as if s/he was deaf. The parents of a disabled child also lose courage the moment they realise their child is not going to be like many others. They frequent temples, saints and doctors, hoping that one day their child will be the same as everybody else."
Wait, if all this smacks of bitterness, you've got things wrong. Jayashree herself has suffered very little at the hands of society. "That is why I want others to do as well as me, may be better. I want to tell them not to get conditioned by their immediate social circle. I also want the public to know that disabled people also have the right to equal opportunity, to equal participation in all fields... One physical encumbrance does not put a full stop to everything."
To make that point, Jayashree put together Sangamam, a professional dance show in which disabled and normal people danced together. Busse Gowda and Guruprasad, gifted dancers from Bangalore who were known more for their handicap than their talent, were put together in a choreographed affair with Revathy and Vineeth, accomplished dancers themselves. Somewhere down the line, the audience, doing just what Jayashree wanted them to do, forgot who was disabled and who wasn't.
"The devotion, the dedication that blind dancers have to put into learning classical dancing would be beyond the comprehension of those who can see. They have to feel every mudra, every abhinaya, every foot movement to learn what others take for granted. They also have to overcome discouragement from people all around them."
The show hoped to dispel stereotypes, even if only temporarily. "I am, of course, enough of a realist to know that deep-rooted prejudices cannot be changed so easily," she says.
The blind Dr Subramaniam told Ability, "What shocks me is that people are even surprised that I can take my hand directly to my mouth when I eat. They expect my hand to go to the nose because I can't see. There are times I shut myself off because I have to make a huge effort to convince people that I can do many simple things."
The letters pouring into Ability show how badly the disabled seek a platform.
"I am a polio-afflicted girl doing my plus two in school," reads a letter from Anusha Kumar from Coimbatore. "Though I can move about with calipers, I have been feeling extremely sorry for myself and envious of my friends who run and play happily without a care in the world. Added to this, I have a grandmother who keeps saying that no one will marry me,
"Now I feel as though I have been lifted out of darkness. What an inspiring story! I am now determined to prove myself and show everybody what I am capable of. I now find that I can do more things than I thought.
"Thank you, Ability, for kindling my abilities."
Illustration: Dominic Xavier
Tell us what you think of this feature