Election fever -- zero degrees centigrade!
Shobha Warrier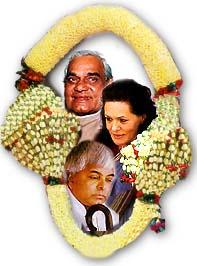 It was election time. But life, for the unconcerned residents of Madras, was just the same -- monotonously uneventful. No huge cut-outs for which Tamil Nadu was notoriously famous, no posters except that of the rising sun (the DMK's symbol), M K Karunanidhi (the chief minister) and M K Stalin (his son), livened their boring lives during this election.
There was a time when people saw only the orb-like face of Jayalalitha looking at them menacingly or benevolently from everywhere; from the walls, from the sky and even from the earthenware drinking water pots kept on the roadside.
The moment Karunanidhi came on the scene, all the giant cut-outs of Jayalalitha disappeared from the city and, for sometime, the skyline were clear and the walls, clean. Slowly, the ruling party began to assert itself by painting on the walls. But cut-outs of the father and the son were visible only during party meetings.
Until Sonia Gandhi's campaign at Sriperumbudur. One saw a carnival of cut-outs there -- 'Madam' Gandhi, Rajiv Gandhi, Indira Gandhi, Nehru, Kamaraj; there was a small one of the Mahatma too.
Naturally, everybody expected a deluge of posters; after all, the terror called Sehsan was shorn of his powers. But the flood of posters and cut-outs began and ended at Sriperumbudur. Except for the Congress, not a single party in Tamil Nadu flaunted larger-than-life posters or cut-outs. Both the AIADMK and the DMK, who pioneered the cut-out culture, were strangely silent.
"We've never had such a bad time. Did you see a single cut-out in the city? In 1991, this city wore a festive look, plastered as it was with posters of all hues and colours. This year, I've only done a handful of cut-outs, that too of Sonia Gandhi alone. No other party has asked us to make cut-outs. All of them are so scared of the strict election commission that they don't come near us at all. I have read in the papers that the cut-out culture has invaded other cities. And here in Tamil Nadu, which is the birth place of cut-out culture, you don't see a single one. It is very sad. The few that I had done were for Andhra Pradesh. It was only during Jayalalitha's time that we had a field day," mourned Mohan of Mohan Arts, a well-known cut-out firm.
Kuppan works for J P Krishna, who specialises in banners and cut-outs. "We used to have so much work till 1996," he recalls, "that we had to reject assignments. Now, we have practically no work at all. Those who are used to hard work find it difficult to accept this reality. Waiting for work, remaining for long periods without work is a new, uncomfortable feeling."
The business peaked in 1991, soon after Rajiv Gandhi's assassination. When the DMK was blamed for his death, they pasted posters all over Tamil Nadu asking, 'Is this just?' At one time, political parties chased artists; it is the reverse today thanks to the EC and the financial crunch.
A similar gloom prevails in the flower market. This was one place that used to be the liveliest during the elections. Now it looks deserted and desolate, an atmosphere of defeat prevails. 'Who wants to buy harams (garlands) these days?"
"All of them want only shawls."
"What is the use of a haram, they think!"
All of them talked in unison.
Time was when political parties used to order huge garlands worth thousands of rupees when important leaders visited the city. The costliest ones were made of only roses, with gold gilt. This year, they did not get a single special order.
"It all began with Rajiv Gandhi's assassination. People hovered around him to garland him and you know what happened after that. From then onwards, other political leaders are scared. After his assassination, our lives also changed," said Selvanayaki as she strung flowers for the evening sales.
Mony has been in the flower business since the days of Kamaraj, Anna and MGR. In those days, anybody could garland the leaders, he says. "You just had to stand on the road with a garland and their cars would stop near you. People used to buy garlands from my shop and garland Anna, Kamaraj, MGR and even Indira Gandhi in front of my eyes. Gone are those days. Now, none of the leaders accept garlands. They are scared that it might hide a bomb. A few days ago, Stalin was here to address people. All of us from the flower market made a huge garland and wanted to present it to him. Mind you, we waited for hours holding that heavy garland. The policemen came with some beeping thing and checked it for bombs; only then were we allowed to garland him."
According to Selvanayakam, the only time they have very good business is when a real big leader passes away. "Then all the political parties order very costly garlands. So, if we want to flourish, we have to pray for the death of some leader!'" Everyone joined in her laughter.
Kuppan still remembers the way Indira Gandhi used to accept and throw the garlands to the crowd, creating a mad frenzy.
Today, shawls of cotton and silk have replaced garlands. For even the costliest garland, once worn, is useless. It is thrown away. A shawl, on the other hand, can be used and reused. "Some leaders accept shawls and, later on, present it to some other leader. Can you do this with a garland?" asked Murugan, matter-of-factly.
The Khadi Gramodyog Bhavan has witnessed a 50 per cent increase in sales -- they've sold around 200,000 shawls -- after the elections were announced. "Politicians presenting shawls to other politicians is a recent phenomenon. It may be because people throw away a garland while a shawl can be of some use," said Pandarinathan, the supervisor. KGB, which has a permanent rebate on their items, attracts many customers, especially for cotton shawls in the Rs 90-150 range. Then comes khadi silk and, lastly, wool.
The red shawl that TNCC (I)'s Thangbalu presented to Sonia Gandhi was bought from Nalli Silks. At Nalli too, sales have increased by 25 per cent after the elections were announced. "Throughout the year, we have good sales of shawls but election time is different. The most popular shawls belong to the Rs 100-200 variety. But, this year, we have also sold quite a few costly silk ponnadais."
Not surprising! If you had seen the rally organised by Jayalalitha on the first of February where all her alliance partners participated, you would not be surprised to see the grin and happiness on the faces of those who sell clothes. There were more than a dozen people on the dais and Jayalalitha presented each of them with shawls. They, in turn, presented shawls to each other and even Advani and Vajpayee presented shawls to Jayalalitha. When in Rome…!
Collage: Lynette Menezes
Tell us what you think of this feature