Her head rests on a down-turned basket on the floor. Her thick, incredibly curly hair is spread over it after the customary oil bath. As the incense fumes rise from the live coals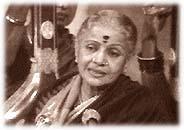 under the basket, the black waves seem endless and enchanting. The face they frame turns ethereal. Diamond sparks from ear and nose intensify the fragrant dream.
When she rises from cloudy repose, she knots her hair, tucks jasmine flowers into its folds, sits before the Gods in the puja (prayer) room and sings with her eyes closed, slender fingers gliding over the tanpura (stringed musical instrument). I become even more convinced that grandaunt Kunjamma is a celestial being. How else could she make music which thrilled you all over?
At that time, I was too young to realise that she was the idol of hundreds of thousands as the celebrated musician M S Subbulakshmi. But I did know the legends of Goddesses who came to earth on special missions. Now in my adulthood, stripped of childish fancies and credulous faith, I am still unable to shake off that adoration. I certainly see it reflected in the sea of faces in the concert hall, looking up at the lady on the dais. To them, she is not merely a performer, not even a saintly singer. She is Goddess incarnate. It is not human art but divine grace which manifests itself through her voice.
That voice has been rated peerless from the shy days of her debut when it soared like the high-pitched notes of a bird in springtime. Later, the ravishing trills were weighted with the stately grandeur and sonorous devotion of the classical tradition. Few other artists have been as successful as Subbulakshmi in the melding of the conscious and the unconscious, the inborn and the reflective elements of her art.
She plumbs the depths and scales the heights of the raga, dwelling resoundingly on the gandhara of the upper register, circling it with phrases pure and brilliant. She may drown you in hymnal fervour as she repeats the line, 'O jagajanani, manonmani, omkara rupini, kalyani…' The listener is lost in a trance. He doesn't realise that the ecstasy is founded on technical mastery, marathon training and phenomenal control. Perhaps this was at the back of his mind when the Hindustani maestro Bade Ghulam Ali Khan called her "Suswaralakshmi Subbulakshmi".
And if you pay attention to anything she sings from her vast, still-increasing repertoire in many languages and in several musical forms, from Telugu kritis to Marathi abhangs (devotional songs), you can see how much diction, breath control and thoughtful modulation contribute to the transcendence which characterises her music. Meticulousness is a constant factor in everything she does. Her unquestioning faith in God is equalled by her unfailing commitment to her art.
National and international leaders, fellow artists and celebrities from every walk of life rank among her admirers. For an artist who has never given a single interview, letting her music speak for itself, Subbulakshmi has received unprecedented press coverage. The public adulation is evoked not only for her music but for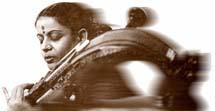 the other worldly qualities she represents. Indian thought identifies these with the Bhakti tradition, where art is only a vehicle for seeking and finding God.
It is well known that shortly before his assassination, Mahatma Gandhi requested M S Subbulakshmi to record his favourite bhajan for him. She did not know that song. But how could she not learn it for him when Bapu said he would rather hear her speak the song than someone else sing it?
More and more of her fans tell her that listening to her songs, live or recorded, has brought them good fortune, averted mishaps, replaced physical or mental ailments with peace of mind. I cannot forget a dear friend who repeatedly asked me to sing any 'MS' music as she faced death from third-degree burns.
In real life, Subbulakshmi is an extremely traditional and conservative woman of her generation. She is quite unaware of the trails she has blazed, or her pioneering achievements. She was the first woman recipient of the Sangita Kalanidhi title (1968) from the Music Academy, Madras. She is perhaps the only Carnatic musician who is popular in north India. And it was she who introduced the splendours of Carnatic music to the West at the Edinburgh Festival (1963) and at the United Nations (1966). With husband Thiagarajan Sadasivam to guide her, M S Subbulakshmi has raised over Rs 30 million for charity through her concerts.
(President of India K R Narayanan announced, on January 14, that M S Subbulakshmi will be awarded the Bharat Ratna.)
Other quiet revolutions include playing the male role of Narada in the film Savitri (1941). This was to raise money for launching Kalki, her husband's nationalist Tamil weekly. Her title role of the Rajasthani saint-poetess Meera in the film of that name (1947) gave her national prominence.
Cult figure and consummate artist that she is, Subbulakshmi continues to give concerts at age 80. She can still hit the gandhara in the upper octave and make you soar with her.
Yes, grandaunt Kunjamma is an inspiring role model, not only for the miracle of her culture: humility, compassion, consideration for others and unwavering principles of conduct. Her quest for perfection, sincerity of effort and concentration are not reserved for the stage. They are visible in the camphor light that she circles around the Gods and gurus in her puja room. That is why she fills you with the same rapture when she sings a prayer at home, as she does on the concert stage with her eyes-closed final, 'Kurai onrum illai (Lord, I have no regrets)'.