Roots
Madhuri V Krishnan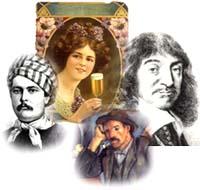 The stringy clutch of lights flickered and leapt atop the bands of white that darkened downward. Slowly, inexorably, the candles, with their slim and soft and white fingers lengthening, sank slowly towards the lace-covered mantelpiece.
Diedree Lobo's soprano voice rose in the praise of god as people shuffled and settled into the wooden pews. Some in the flock fingered their rosaries, all looked strange in the unreal light beneath the stained glass above. Midnight mass was about to begin.
I was sharing the experience with a school friend named Carol, and the image of those devout Anglo-Indians, their heads bowed in prayer, remains with me, like a cherished dream.
I didn't know the figures then but there are only 200,000 Anglo-Indians left in India, mostly in urban Calcutta, Bangalore and Bombay. A huge majority, Carol included, migrated to what they thought were safer havens, like the UK, New Zealand and Australia. They were seeking economic stability and, more importantly, self-esteem.
Now many of them are back. For the Fourth Anglo-Indian International Reunion in Bangalore.
It began badly with about 50 Anglo-Indian protesting outside the venue that they were deprived participation because they were poor. Matthew, a spokesperson for the protesters, gave vent to their feelings: "The fees for one day of the four-day conference is Rs 1,000; some of us don't get proper food to eat. How can we afford this money?"
Inside the Ashoka, it was another story. Jim Reeves crooned through oversized speakers placed in the corner of a banquet hall packed with chairs cased in red velvet. About a thousand men and women had gathered, all clad in chiffons, tuxedoes... All exuding an urbane sense of jollity. Some members of the gathering moved around with cameras in tow, waiting, watching to capture the mood that would suit their sense of nostalgia, of identity.
"Could that be aunt Lisa from Montreal or that, cousin Ashley from Melbourne?" "Doesn't he look like Uncle Josh?" With hopes of being happily surprised the visitors eagerly scanned the crowd.
Among the Indians were model Marc Robinson, singer Ashley Powell, swimmers Nisha Millet and Maria Johnson, jockey Sinclair Marshall, world billiards champion Wilson Jones, Ms World Diana Hayden, Archbishop David Johnson, cricketer Roger Binny, MP Neil O'Brien, quiz master Derek O'Brien... The cream of the Indian Anglo-Indians. Unlike those standing outside.
Among the people who weren't there were the four chief guests, Karnataka Chief Minister J H Patel, Deputy Chief Minister Siddaramaiah, Minister for Social Welfare Krishna Reddy and Minister of State for Culture and Tourism Leeladevi Prasad. Clear evidence of the kind of respect the Anglo-Indian community calls for from the mighty.
By the next morning, the delegates had recovered sufficiently from their early bewilderment to feel the slights to them and the Anglo-Indians outside.
Why weren't their poorer brethren accommodated? Hadn't they been distinctly informed that fees collected from them would subsidise the fees for the poor Anglo-Indians? Where was all their money going? There were more questions.
Joss Fernandez, chairperson of the All India Anglo-Indian Association, fielded the volley rather well. A five-star meal, he said, costs money. Some can afford it, some can't.
Why hold a five star dinner at all, asked some in the creamy layer. All they wanted to do was meet fellow Anglo-Indians and discuss the problems they faced in India.
After some more argument and plenty of baleful glares, a way out, more a conscience-salve was offered by Errol James of Australia.
"I know the money meant for Anglo-Indians is locked up in the Frank Anthony Trust. Let's get some lawyers to loosen those knots instead of that money gaining compound interest year after year. Let's channelise it to benefit the really needy Anglos in India." The Frank Anthony Trust was set up 20 years ago by Anglo-Indian philanthropist Frank Anthony -- a hero for some, a dictator according to others -- to aid the Anglo-Indian. But though funds sent by NRI Anglo-Indians were used to subsidise education, the rest of the money remained untouched.
Other issues raised included poverty, unemployment and lack of housing.
"Before 1961 -- when the Indian army moved into Goa -- Anglo-Indians had many benefits in the form of reservations. So you found us in the services, the army, navy and air force, nursing and railways, as secretaries and air hostesses. You name it, we were there. But in 1961 all reservations stopped. This was a blow to Anglo Indians, from where they went downhill," That was Heidi Rego, MP.
She concedes that the Karnataka government has given Anglo-Indians a number of educational reservations. But not any other state. But even here, none of the chief guests felt it worth to attend the reunion.
After the ban on reservations, Anglo-Indians sold their lands cheaply and migrated in droves. Current estimates put the number of Anglo-Indians worldwide at eight million. Of course, many have married into other communities; there are a few of pure Anglo-Indian breeding left, in India, Pakistan, Mynamar and Pakistan's North West Frontier Province.
But the roots have already loosened. Second and third generation Euro-Asians -- at least one whose parents are Anglo-Indians -- are more loyal to feel more loyalty to their country of residence.
Glen D'Cruz, a teacher in Melbourne and a second generation Anglo-Indian, lived in England for ten years before settling down in Australia.
"I see myself as Australian. My behaviour and lifestyle have been moulded by that country. If anyone comments on my dark skin, I add that I have some Indian extract..."
There were, of course, the mandatory fun and games, picnics, food festivals, the obligatory bow to the demands of nostalgia, before "issues", both cultural and emotional, were raised -- those of identity crisis, integration into foster societies, jealousies between those who prospered and those who didn't, the loss of cultural and historical moorings, the worse discrimination they suffered in India... All grist for the debating mill.
"We've got to move ahead," said Keith Butler of Bullanook College, Australia. The solution, he said, was cultural activism, to get rid of the baggage provided both by British imperialism and now Hindu fundamentalism, represented by the writings of Kipling and Nirad Chaudhuri. Kipling projected the Anglo-Indian as spineless failures, whle Chaudhuri said Euro-Asian women were to be feared, "Keep your sons locked indoors for these are harlots and whores."
Trapped by this historical perspective, Anglo-Indians had to change the way they see themselves. They had to find their own heroes and feel positive about their uniqueness, Butler said, suggesting that every Anglo-Indian read Allan Sealy's Trotternama, which he calls the most accurate account of Anglo-Indians written in the post-colonial era.
Butler says he provides historical facts to his two children and his Australian wife at dinner time, claiming to be proud of being an Indian first and then an Anglo-Indian.
"My point is every child should be made aware of her/his roots, what s/he finally adopts or identifies with is her/his choice."
Things are different in England, says Douglas Kirk, a teacher of cultural history in London. In England, where colour prejudices are rampant, children are often ridiculed as half castes, he says. While the children still fit in because they identify with the language, their love for music, dance and sports, they cannot see themselves as Indians as their parents do, he says.
Margaret Dunn, born in Baluchistan to an Indian mother and English father, and now a citizen of New Zealand, has the last days of the Raj deeply etched in her mind.
"My father helped us to escape overnight... Me and my two sisters were moved to a boarding school in England." She later moved to New Zealand, married a local and has two grown-up sons, one of whom has evinced an interest to see India.
One newsperson moved up and asked Dunn, "How does it feel to be an Anglo?"
"How do I feel?" she responds. "Just like anybody who had to survive in difficult circumstances. I am definitely more loyal to New Zealand. It has given me so much, than India which is the place where my ancestors are buried."
"The Anglo-Indian is not merely of mixed parentage where the father is English and the mother is Indian, as it is defined in the Indian Constitution. An Anglo Indian is anyone belonging to a mixed race, someone who goes through class, cultural, regional and generational divides," says Dolores Chew, a historian and Anglo-Indian living in Montreal.
Those in India, she says, are caught in a time warp, trapped in a heritage of poverty, and they are marginalised like many groups around the world.
Perhaps the only person at the reunion who has gone beyond discussions and demands is Colleen Samuel, who runs a voluntary organisation called Diya Shanti Centre at Lingarajapuram in suburban Bangalore to help Anglo-Indians at the grassroot level.
"We don't want help from prime ministers or MLAs; we operate on a self-help basis. We encourage dropouts to practice some trade. We create an awareness about our identity and try and build the Anglo-Indian's self-esteem."
But Chew advocates reservations of parliamentary seats. It would help a people who have to live with a historical handicap, she says. "We don't see ourselves in need of aid but of affirmative action in the form of seats which will help us keep our heads high," she said.
The debate waxed and waned, but one thing was clear: this homecoming, from which they would return with bits and pieces of heirloom and history, had brought together a community again. And, at least till the immediate fervour passes, they should stand up for their brethren across the world, gaining assurance in themselves. After all, they aren't alone any more.
Illustrations: Dominic Xavier
Tell us what you think of this feature