Namrata Bhawnani
There was a tiny little black cloud darkening Ricky Martin's brilliant horizon on his very first visit to India – as part of the promotional tour for his new album, Vuelve. And, like elsewhere in the world, there were hordes of crazy girls just dying to hear him hum a snappy tune, to shake hands with him, to touch him – they would even be satisfied if he just looked in their direction.
And yet…
"It's not such a big deal actually," says the blond singing sensation – remember how he busted the world charts with Un, Dos, Tres, Maria not such a long while ago? But it is, I believe, bothering the latest teen sensation – if you forget Leonardo DiCaprio – just that wee bit.

For Ricky is the voice behind The Cup Of Life, the official song of the World Cup that has already been translated into French, Spanish, Italian and Portuguese. And he has been slated to perform, live, at the World Cup finale on July 12. "Yes. Hopefully. But things could go wrong!"
Ricky, you see, is backed by Pepsi. While arch rival Coke is one of the main sponsors of the World Cup. Which is why, despite being personally asked by Michel Platini (the former French football star and one of the main organisers of the World Cup) to compose the song, Ricky has his fingers crossed. Even as he dodges a question about the tuneful similarity between The Cup of Life and Maria.
"Mr Platini called and insisted that the song must be like Maria. It was a choice between agreeing to that and not being part of the World Cup."
Which, for this self-admitted soccer fan – "I'm a big fan, but a bad player" -- was unthinkable. "I just love football," he continued to enthuse. "It's Brazil all the way."
The World Cup is not the only thing on Ricky's mind. At the moment, Vuelve – sales have already crossed the 'gold' mark in India -- occupies a large part of it. "Vuelve is a very different album, far different from Maria. Unlike my earlier style, there are some slow numbers in this album," he is quick to answer the unspoken question.

"I think," he added, "I have evolved over the years. In this album, I've used some of the unique sounds that I've picked up from different continents. The sounds, the rhythms are very earthy. But I will not change the base – it is very Puerto Rican. I don't want to change that, not even for the next album I am working on."
He will not allow anything – not even the marketing label – to dominate his style. "I don't want to hide behind any kind of mask. My music comes from my heart. I realise I can't please everyone. When you are performing, people expect a lot from you."
And he expects to deliver with Vuelve which, loosely translated, means comeback. "Actually," he says softly, "you could choose to interpret it as anything – a comeback of Ricky, or in terms of love…"
Does this mean there is any truth in the rumour that Ricky is planning to get MARRIED? That there really is a Maria in his life? Not for a minute will Ricky let himself be stymied. "Maria does exist," is the prompt answer. "I won't reveal her name, but I'll tell you this much: She drives me crazy! She just makes me come alive!"
So he's attempting to soothe himself with Indian music. "I would love to capture the rich sounds of India. I'm very interested in bhangra. And I've been listening to Zakir Hussain. Sounds Of The Desert is very impressive. I'd be honoured to work with him sometime in the future."

For now, though, there are many other things on his mind. His next album, for one. It will be his first in English – his fourth otherwise -- and should be released next May. Later in the month, he will wing his way to Argentina for a concert.
For the immediate future, it's London and the studios. "I will be recording the soundtrack for Steven Spielberg's new film, Elzoro. I'm working with the same people who composed the music for Titanic."
Ricky Martin's career has always been like that – filled with unforgettable moments. Like the time he made his first professional contact with music, as a member of the immensely popular teen band, Menudo. He was only 12 years old – and he clicked with the band only after the third audition. On both earlier occasions, they rejected him because they thought he was too young.
"I didn't want to be a singer, not then. What I wanted was to be in Menudo. I wanted to give concerts, to travel, to meet the pretty girls. Ricky Melendez had left the band, and I was hoping they'd take me as his replacement. They searched for the right person for two years, and I was selected only after my third audition."
For five years Ricky lived his dream, performing at music festivals and sold-out concerts in every continent. "My school has been the hotel room and the lobby has been my playground," he says. "But I have no regrets, it has been a fascinating journey. I experienced first hand what I would need to know when I went solo. It taught me to be disciplined, something that I still practice today." He also learnt what it was to spend long hours in a recording studio, to go from one place to another in the world on incessant tours and to perform on stage.


Then, he timed out for six months. "I disconnected myself from the artistic world – I needed a year off for reflection and catharsis. It was necessary because my first five years in the business were pure adrenaline, very intense."
In 1989, he returned to Puerto Rico to finish high school, before moving on to pursue his second passion – acting. He travelled to Mexico, where he starred in the long running musical play, Mama Ama El Rock (Mom Loves Rock). Then came the popular Mexican daytime drama, Alcanzar Una Estrealla II (To Reach A Star) where he featured as a musician and singer. The serial spinned off into a film – and his performance therein earned him a Heraldo, the Mexican equivalent of the Academy Award.
Meanwhile, Sony released his first album of original songs. Ricky Martin proved his success even as a solo artist – it went platinum in many countries – and was quickly followed by Me Amaras (Will You Love Me?). This rocketed him to the top of the Latin charts and earned him Billboard's "New Latin Artist" award at the 1993 music awards.
Then came the highly popular American television serial, General Hospital, which got him his first Broadway offer – the musical adaptation of Victor Hugo's Les Miserables. "I have made a quantum leap, I have made it to Broadway. I believe my theatrical debut in New York could not have been more interesting."
In the midst of all this excitement, he released his third album – the one that featured the chartbusting Maria.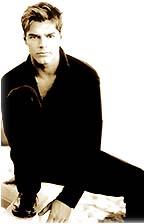 It was another milestone in the life of Ricky Martin, born Enrique Martin Morales on December 24, 1971, in San Juan, Puerto Rico. Success had swept through his door at an early age. But he made sure his feet were rooted to the ground. "Fame can be very disturbing. It brings fantasy. I don't need fantasy. I need reality. In fact, people in showbiz should watch out. Fame can hurt. My medicine is my family and friends."
Though a product of a broken home, he says he had a normal childhood; his middle class parents were always supportive of his ambitions.
As for the distant future? "After a few years, performing and travelling take a back seat. I'd like to get behind the camera. Also, I'd like to try my hand at some scripting."