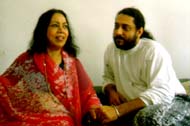 Ranjit Barot with his mother, Sitara Devi
A Deep Barot-one
Sangeeta Bahuguna
He started out in life thinking he would make a future in academics. His mother, the famous Kathak dancer Sitara Devi, wanted to shield him from the struggle which was customary for most artistes and performers of her generation, in their often penurious crawl to the top. So, Cathedral School it was and later Elphinstone College but, somewhere along the line, sports and music had become major distractions. He loved chemistry, but decided it was time to drop out of college.
These, then, were the confused, if not-so-humble, beginnings of Ranjit Barot, India's top drummer, I'd venture to call him. Immediately a good-humoured sneer goes up from the maestro himself and I must amend my notes to read, "India's only drummer". Something tells me this meeting is going to be fun.
To get here, however, to this swanky apartment on Napean Sea Road in Bombay, involved several skirmishes with "Tony". Like all celebs, Ranjit too has his fixer, a man of fire and brimstone who can, my instincts tell me, blend with the authentic antique furniture when the boss scowls. He flashes upon my uncharitable inward eye as press secretary-cum-baby minder-cum-answering service-cum-spare drum. Obviously, my battles with him have not been pleasant ones. Anyway, Tony finally decreed a meeting possible. "Ten am sharp, or never," he cautioned.
At the appointed hour, I am standing on the outer side of a door. Curly brass italics proclaim it to be the home of Ranjit and Maya. Two maids in lurid and lesser lurid pink usher me in and then move around on well oiled wheels. In the fashionably darkened apartment, stumpy gargoyles lurk in corners; on closer examination, they reveal themselves to be Ranjit's collection of percussion instruments from the world over.
Slick from the shower comes the man himself and proudly introduces me to 17-month-old Mallika trailing behind her burly dad. Within seconds, lesser lurid pink rolls unobtrusively by, presenting glasses of juice, and we settle down for a chat.
Fairly early in his school life he discovered that he was "rhythmically inclined". Quite sick of borrowed snare drums and cymbals, ingenuity and deviousness got him his first drum set. A music store in Dadar housed the most sleek, yet unaffordable, drums that a 14-year-old could desire. A casual stroll with his mother past the store window and, then, a practised and premeditated range of emotions were unleashed until the grand lady, steeped in the classical tradition, gave in to her son's wayward desires. Contrary to expectation, from then on, he received nothing but encouragement from her.
After that, the city had a surfeit of this underage percussionist - school socials, rock gigs, college festivals - you name it and he was there in all his flamboyance. He started performing professionally at 16 and when Louis Banks, master jazz pianist and composer, was looking for a drummer with superlative skills, the choice was, quite naturally, this meaty youth, complete with ponytail and earrings. Their easy partnership saw them through many Jazz Yatras and impromptu performances. Though each may have officially formed his own band and wandered into disparate areas, music lovers are still witness to some electrifying jamming when the two get together.
In the early '80s came a period of "intense wanderlust". A talent scout from Paiste, a Swiss company that manufactures cymbals, heard Ranjit performing at the Zurich Jazz Festival and offered him a wholesome contract. He played for them for a couple of years and then moved on to England where he fattened himself on hard work and music! By the time he moved to New York, he was ready to take on the international bigwigs.
"I was sure that I did not want to go there as some third world native doing exotic stuff. I went to New York when I could judge and play their musical language as well, if not better than them. This is one reason why I never learnt to play the tabla. Ustad Alla Rakha was a very good friend of my mother's. Much as I respect fusion and all that, I personally did not want to dazzle the white man and receive his condescending encouragement to remain on the fringes of his musical scenario." In New York, he made lasting connections with acclaimed jazz musicians, some of who are going to be part of his forthcoming album, slated for release in early '97.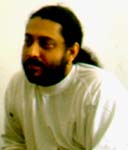 On his return to Bombay in '85, Ranjit realised that the electronic revolution had struck. What with keyboards and gizmos, "no one needed a drummer anymore and I was unemployed," he quips. The good thing that came out of this was that he drifted into advertising - composing music for commercials and often even singing and starring in them (Remember the long-haired toughie in the Eveready Give Me Red and the Maaza commercials?).
"Advertising is like finishing school for a musician. It hones your skills, teaches you how to sell a song and bring to it better sonic treatment and technical values."
Apparently, advertising gave him more than just that. Some good friends like Kunal Kapoor of Adfilmvalas ("I do a lot of his work and eat a lot of his food.") and Maya, his wife! As the subject shifts to Maya, the defiant set of his shoulders begins to relax and an unembarrassed softness creeps over his expression. Almost on cue, the graceful lady herself makes an entrance. Amid hearty nostalgic laughter, I am able to gather but this much that he first met her at film-maker Kailash Surendranath's office where she worked as a production assistant. Completely smitten by her, he kept asking her out and she steadfastly kept refusing. ''She came from a staid South Indian background and I realised that the only way to get her to eat with me was by marrying her.''
Wife and baby have brought about other subtle changes in his lifestyle. So as to be close to them while he works, he's installed a state-of-the-art recording studio in his apartment. When taken on a guided tour of this room, my low-tech sensibilities are dilated and I imagine that I am on the sets of a mega-Spielberg outer space extravaganza. A rather clumsy pirouette and my elbow almost comes crashing into a crucial piece of equipment. Ranjit winces and leads me out before I do any real damage. Later he informs me that his daughter is the only one allowed to go "bam-bam" in there.
The studio, though an expensive proposition to set up, is not a money-making venture. It is never hired out. "It is only for my own work, to record my own music at my own pace and on my own terms.''
What is he doing currently? Two things, both equally exciting. The first is the music for a very big Tamil film called V I P starring ace dancer Prabhu Deva. The offer came from director-cinematographer Rajiv Menon, who also happens to be a close friend and is quite keen that Ranjit move to Madras and "take some of the load of the south Indian film industry off Rahman!"
Isn't he apprehensive about doing another film score after the way Oh Darling, Yeh Hai India bombed? Not in the least, he informs me. The south Indian film industry is far more disciplined and far more experimental and they should be able to handle his kind of music.
Oh Darling..., he admits, was a complete disaster - the film, as well as the music. For some time it devastated him, for it had taken him two-and-a-half years to record the music and he is still proud of some of the work there. "It's just that Venus, the recording label, treated it as a tax write-off from day one. They didn't push the right tracks. Both Mani Ratnam and Rahman freaked out on the track titled Choo lene de.''
The other big thing he is involved in is putting together a band called Bodhisatva with Shankar Mahadevan, Dominic Manuel and Karl Peters and recording an album which will feature a lot of international musicians as guests. "Then, as soon as I lose 20 kilos, we'll make a music video and you'll see me gyrating on Channel [V]." But, setting aside the facetiousness, he claims that it will be the first English vocal album of its kind.
"Of course, when you put forward music that is bold and different and not designed for mass consumption, there are pitfalls. It is difficult to make an artistic statement today. If one is true to one's sensibilities, chances are one will never bring home success and fame. The current 'pop' trend being promoted by recording companies and youth television stations discourages many intelligent musicians."
When asked what his message for the world might be, he doesn't hesitate for even a minute and throws out quite conceitedly, ''Being India's only drummer is a lonely job and hampers my artistic growth. I call upon the youth of today to come forward and provide me with some competition!" While Maya begins to look embarrassed, Mallika coos encouragingly at her dad.