Fire and Ice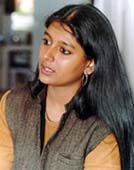 Chindu Sreedharan
I can see it on her face: Nandita Das is deliberating whether to throw me out or not. Just half-an-hour into our interview, and I had broached the one topic I had been warned not to.
Being painter Jatin Das' daughter, I had suggested, must have helped her a lot in her career.
Everything had been fine till then. We had got on to a smooth start and the dusky, lively actress - currently in the news for her performance in Deepa Mehta's internationally-acclaimed Fire - had just finished taking me down her memory lane on a whirlwind tour.
Now sitting cross-legged opposite me on an expansive, high contraption that defies identification, Nandita frowns at me absently as she tries to decide. And I wait anxiously, watching emotions flit across her mobile face... Anger first, plain irritation next, and.... ah, is it forgiveness that we detect now? Yeah, Nandita is ready to let me off lightly this time! But not before she gives me a sizeable piece of her versatile mind.
"I am pretty sick of answering this," she announces, leaning forward and fixing me with her characteristic I-dare-you-to-look-away look. "I have been Jatin Das' daughter for the past 28 years. But you never came to me till now. You came to me because I did this film and it got the response it got. Why don't you take me for what I am... and not Jatin's daughter?"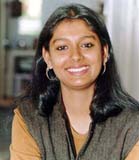 I promise to do so, and inform her that she had just saved me from a dilemma with her answer - I had been worrying about how to ask her about her age without really sounding rude. "Yeah, I know. Why do you think I told you?" the lady asks, adding, "That's another thing I have been hearing a lot about. Now that I am into films, people keep advising me not to reveal my age. Even Shabana (Azmi) told me not to."
Her irritation now completely forgotten, Nandita is back to being her former, bubbly self. And proceeds to tell me now it felt working with Shabana. "When it got out that I was acting with her, people used to ask me, 'She is such an experienced actress, aren't you scared?' But, fortunately, I never got into that kind of mindset. My character, Sita, is a confident, questioning person and, if I had doubts about my abilities, I wouldn't have been able to do justice to the role. And Shabana was wonderful. Really cooperative. In scenes where I was inhibited, she made me feel comfortable.
Fire, which has been remarkably well received at the Toronto and New York film festivals, explores the relationship between two women - Radha (Shabana) and Sita. The overseas viewers, Nandita says, were simply "overwhelming" with their responses. "Usually, people just come and say 'Congratulations, you did a good job' or something. But here they wanted more... they wanted to know where I came from, my background, how I felt doing a particular scene, how I would react in real life if it happened to me... all sort of things. They were really touched, you know."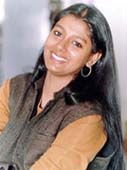 But Fire, I point out, is looked upon as a very 'bold' film, especially for India.
Nandita agrees. "It's a bit bold, yes. But it isn't untrue. The way it progresses, it doesn't strike you as a lesbian film (that's what most people would call it, I suppose!). It strikes you as a film about relationships... about love, about marriage, about desire and the questions we never ask. Homosexuality, after all, has been present in our society as much as it has anywhere else. It's very convenient to pretend the contrary..."
Acting, despite all the fame it has brought her, is not something which Nandita would like to pursue full-time. "In one way, it's a very narrow field where your body is your tool and you have to look nice and all that. And it disrupts your personal life a lot."
That's why she hasn't shifted to Bombay, despite encouragement from friends, relatives and well-wishers. "It's so easy to get sucked into that kind of life; there is quick fame, quick money, quick everything," she says.
Then, what would she rather do full time? "Why," she exclaims, "my work!" Which, as she had told me earlier, revolves around children.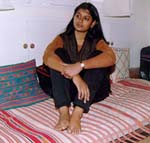 The Bombay-born, Delhi-based ("When I was six months old, my parents shifted here") Nandita had, after graduating in geography from Delhi's Mirinda college, taken year-long break. "I had decided not to continue with geography, but I didn't know what to choose. So I decided to travel, see something of the world and then decide," she says.
After one year, she found herself joining the Delhi School of Social Work for her Masters. "Sometime during my 'vacation', I found that I liked relating with people, especially with children. That's how I decided on social work."
After the course, she worked with Ankur, a non-governmental organisation. Later, she switched to another NGO. "My current job gives me plenty of opportunities to be with children. We conduct workshops for tribal children. Anyway, my work takes me out of Delhi frequently!" she says.
So Nandita does not like Delhi?
"No, I hate it!" she says. "It's typical city life here. Very mechanic and boring..."
We are into the photo session and I have been ordered to help Nandita 'look natural' by keeping the 'conversation rolling'.
How exactly, I ask, did she start acting?
"It was during my college days," she says. "I began with street theatre. One of my classmates introduced me to Safdar Hashmi's group, Jan Natya Manj. I found it very interesting... the whole process of street theatre was very meaningful. I did street plays with them till Hashmi was murdered (in 1990)."
Though she stopped acting in street plays after that incident, Nandita continued doing plays. To date, she has worked with Habib Tanvir, Barry Johns and M K Raina, besides doing a few teleplays. She was also offered the lead role in Mira Nair's Kama Sutra, but had turned it down.
"Actually, theatre is a much more satisfying experience when compared to acting in films," she says. "In theatre, you are going through a whole process. In films, you are just transcending yourself to a particular emotion without going through the basics. It's two lines now, two lines later. There are too many 'cuts', too many lights, and too many mikes that shouldn't rustle so that you are made aware every moment that you are Nandita and you are playing this particular role."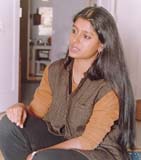 But, much as she likes 'doing' theatre, Nandita hasn't been able to her entire attention to it. "I can't give up my social work," she says. "I have been carrying out my workshops throughout all this." Which means that she has to go - and stay - out of Delhi quite frequently. "And theatre requires a month, a month-and-and-a-half of settled life. You have to rehearse."
Once again we are talking Fire. Nandita is telling me how she met Deepa Mehta. "It was through the Hindi film villain, Gulshan Grover," she grins, seeing my bewilderment. "Actually, he had offered me a role in one of his films. But I didn't find it very interesting. So he said, 'Hey, why don't you meet Deepa Mehta, she is doing a movie about the relationship between two women.' I had read something about her work, so I decided to.."
Nandita met Mehta on the same day, despite the pouring rains that lashed the city. "I arrived at her place, completely drenched, not looking at all like an actress (Not that I know what an actress is supposed to look like!). She opened the door and said, 'Okay, let's go down; we will talk in the lounge.'
"She was wearing this dupatta... and I had exactly the same one at home. I asked her 'Did you get it from Fab India?' She said 'Yes... Why don't you come in?' I found it very funny - first the lady wants to go down to the lounge but, at the mention of a dupatta, she changes her mind and wants me in! Anyway, I went in, dripping water and all, and... we talked and, well, that was it! We clicked!" (Nandita didn't even have to give a screen-test).
Mehta is now working on the second film of her trilogy - Fire, Earth and Water - in which Nandita figures again. "I am looking forward to it; it's a completely different story," she says. "It's set in Punjab at the time of the Partition. And I play an upper-middle class Muslim girl."
By way of a parting question I ask her how she feels Fire will fare with the Indian audience.
"I really can't say; I have lot of apprehensions," she hesitates. "Some people may like it, some people may say 'Yeh tho kharab ladki hain!'. For all you know, I might start getting death threats and this might turn out to be my last film..."
Photographs: Atul Chowdhury