The Little Drummer Boy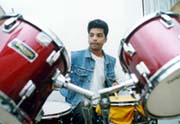 Shobha Warrier
Hey," I pleaded desperately, "do you know where Suresh Peters lives?"
I was hopelessly lost, despite Peters' precise directions on the phone. Just as I began shredding my notepad in desperation, a bunch of kids came to my rescue (rather unwillingly, I must say. They were more interested in pacifying an incessantly barking dog so that they could rescue their cricket ball from its clutches.)
"You mean the guy who plays the drums all the time?" The penny, thank God, had finally dropped. "I'll show you his house, but I don't know his name."
Bingo! Finally, I was at Peters' door. His obscurity, though, came as a surprise. The voice behind Chiku buku raile (Gentleman), Petta rap and Urvasi Urvasi (Kadalan) is still a non-entity, still the "guy who plays the drums all the time". While the other people associated with these numbers - dancer-actor-choreographer Prabhu Deva and music director A R Rahman have become national icons.
When it comes to south east Asia, though, Peters is a name to reckon with. His albums and live shows sell like hot cakes. So much so that, at the moment, Peters - the latest rage in the Tamil pop scene - is readying to whiz off to Singapore for a live performance.
"Almost everyone is doing an album in English. Or Hindi, for that matter. But the idea of a pop album in Tamil was unique. It was a big challenge. It was also a risk, but a calculated one; I don't like to jump into anything blindly. I think it was this opportunity I was waiting for all these years. "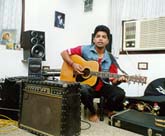 Minnal (Lightning), his first album, took him just three months. "I was not nervous at the time of release. Actually, I was thrilled. I had done something new, something no one had done before."
He did not know how the public would react; he was prepared for the worst. But the album gave him international recognition. "My dream was to create my own album. And, somehow, my timing was perfect. A slight difference in timing and I don't know what would have happened. I do not know if it would have had the desired effect."
It did, though, have the desired effect. Strangers in Sri Lanka, Malaysia and Singapore walk up to Peters and tell him they've bought his album and enjoy his music.
Peters started off on his musical career without any kind formal training in music. Neither was he trained in the use of any kind of musical instrument. To the extent that they did not have even a tape recorder in the house when he was young.
His only music influence? The Voice of America, his father's favourite radio station, which was religiously tuned into every morning. "It might have influenced me - I don't know. But, even though no one at home played any musical instrument, everyone liked music. And it came naturally to me."
So Peters went on-stage with a highly confident debut public appearance in Bombay. He was all of five years old, in the first standard and part of a chorus line-up for his school. "I was wearing a green outfit with long pants. And I was not nervous; I don't think I've ever been nervous on stage."
As he grew a little older, though, he inclined more toward instrumental music, mainly drums, and mathematics. He gained a formidable reputation as a singer who played the drums with equal dexterity. Taking part in competitions and winning prizes became a hobby with him, both in school and college.
He was also part of a music group and turned professional at the age of 15. Yet, he was restless, forever yearning to do more, learn more and experiment more. As a result, he did not limit his music - he experimented with jazz, pop, rock, regional music, even with a fusion of these styles.
"I never felt like going to a college to learn music. Instead, I learnt from experience and from the great people I worked with. And I practised, practised and practised. All that practice is bearing fruit today."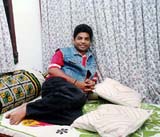 Soon, he found himself in Madras - a result of his father's transferable job. It was time for a career, and young Peters opted for a job as a filmmaker is the Ogilvy & Mather ad agency. He enjoyed creating campaigns for television; in fact, one of his memorable campaigns was the Boom shaka laka one for TI cycles.
But the music bug had taken hold of him - the urge to dedicate all his energy to music was too strong to resist. He quit the industry. By then, he had also met music wizard Rahman, who was into the jingle business in those days. Peters teamed up with Rahman and became part of his group after Roja.
Rahman, with his fondness for unusual voices, asked Peters to sing Chiku buku raile. "At that time, I did not realise it would become such a big hit! Rahman asked me to sing, and I did. But I don't think it's possible for me to repeat that kind of performance again."
The song was an all-India rage. Kadalan followed, with Petta rap and Urvasi. But Peters was restless. He wasn't content with light film songs; he wanted to experiment further. The result - pop songs in his mother tongue, Tamil.
Because of the tremendous success of his first album, he decided to experiment with his second album Ovium. "Instead of fusing western and Indian music, I used a western music track and sang the track in the Tamil way. Everyone likes fusion. It gives you lots of options and lots of challenges. You can use fusion to combine various Indian styles. Fusion is not just about two instruments; its about two different traditions, two different cultures, two different lifestyles."
He attributes everything he has achieved in life to the Almighty. "A little bit of God's mercy is necessary to succeed in life. In order to create something new all the time and let it sustain itself, you need His mercy. This is the most important ingredient."
Peters spends most of his time with music and musical instruments, "Music is my life. If you separate us, I will be devastated.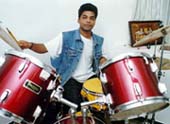 Music gives me energy, it gives me life, it is my closest friend.Like my drums, they are so much a part of me. Its rhythm is a part of my life. Though drumming looks like something that happens outside, it is an internal process for me now. When you sing properly, when you play perfectly, you get a feeling of ecstasy."
Today, Peters is no longer restless. He finds the time to relax, to spend time with his wife, his four-month-old baby and his parents, who live in the same building as he does. In between, he works on his third album - due in early 1997.
Photographs: Sanjay Ghosh