Anamika Ahluwalia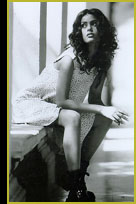 They're fighting for a cause but it's rather hypocritical,don't you think? I mean, no one protests about national level pageants like Miss India or the Supermodel contest, nor are they offended by fashion shows. I think they've realised that, since it's an international event, they can get a lot of publicity out of these protests. After all, the entire world's watching us."
You've probably already guessed that this lady doesn't mince her words. No skipping the issue, mouthing clichés or parroting stereotypes for her. A level of honesty sets her apart from the rest. And that honesty could get her the much-coveted crown.
Meet Rani Jeyaraj, Miss India II, 1996. India's representative, this year, at the Miss World competition. To be held in India for the first time. In the garden city of Bangalore, on November 23.
Will she or won't she? This all-important question seems to have been submerged under all the controversy surrounding the contest. The spotlight is definitely on the various activist organisations protesting for reasons ranging from funding to exploitation. And, suddenly, the primary question seems to be - will it happen here or not?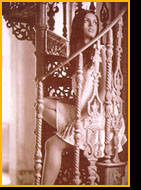 So, where does that leave Rani?
It leaves her quietly preparing for D-day, concentrating on all that needs to be done. And, like she says, "It leaves me with an average of two interviews a day as the time gets closer!"
Unfortunately, since I was the second interviewer for the day, she seemed tired. It probably does get tedious when you have snoops like us wanting to know, "What are you eating, how long do you train, who's doing your clothes and by the way, do you think you stand a chance?" She laughs, and looks around. We're sitting in the Femina office, Bombay. And I was wondering just how I was going to manage this interview after the journalist before me had just finished sticking that Dictaphone into her face!
But Rani's cool, she's willing to trip down memory lane once more. "I was born in Zambia, my parents were missionaries there. I was 13 when we shifted to South Africa. I moved to Bangalore when I was 16, did my college there." She majored in English, psychology and journalism. "College was a lot of fun; I definitely want to study further. Probably mass communication."
College was also when she started modelling. "Modelling wasn't an intentional move. Actually, I was pushed into it. My friends were enthusiastic, the photographers encouraged me, so I went ahead. Plus, the money was good!" Apart from walking the ramp, she's done campaigns like the Ciba-Vision ad and, more recently, Lux soap.
So how did Femina Miss India happen? "In 1995," she recalls, "The Times of India asked me if I was interested in participating in the event, but I wasn't. A year later, I was." Why the change of heart? "Well, I figured if I was going to be a model, I wanted to be the best."
Femina Miss India was, according to her, a great experience. "The contest was tough, an incredible strain on the mind. But working with all the girls was a lot of fun."
She worked out very seriously to get into shape for the competition. "The Times of India has developed a complete training programme for the contestants. Fitness, hair, make-up, catwalk, the works..."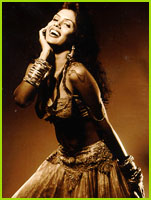 Being a model is a definite advantage. "The exposure helps. Plus, you have a certain level of confidence, a knowledge of make-up and you know how to move."
The contest, she feels, has definitely changed over time. "The organisers know what they're looking for - the international 'look'. And they've made it easier on the girls too. The clothes are all sponsored, and a training programme is organised by them. It has evolved from a mere beauty contest into a personality contest."
Miss India Sandhya Chib went on to represent the country at the Miss Universe contest and was one of the 10 finalists. Rani, Miss India II, is the representative for the Miss World competition. Is the pressure mounting?