August 7, 1997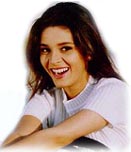 Raags to riches
Anamika Ahluwalia
First you saw her on BPL Oye. No, wait a minute, wasn't she on something before that? Govinda, Govinda, Chunky and the monkey? Ring a bell? Drenched to the bone in Aakhen? Eeks, that was her? Blink once, and she's gone. So that was before Channel V? And after the BPL refrigerators? Which came first? Or did the two go together?
And then there's that music video. You mean it's her own? An album? Duniya? Where in the world has she got time for all that?
"There's so much to be done," sighs Raageshwari, "and so little time."
Considering she's barely in her 20's, you're wondering what the rush is all about. But then again, Raags has always done things before her time. Take her career, for instance. First, she did Bollywood and the masala brigade where things didn't work.


I wanted to
make music
that has a
message. It
doesn't have
to change
your life, but
it has to be
relevant.

Veejaying came next, and things did work. BPL sponsored the show, so it naturally followed that she sponsored BPL. Then came Duniya, her debut album, launched by BMG Crescendo, music videos, live concerts, promotionals....

"I guess you could say that I did things backwards," laughs Raags. "But then, I never did plan to become a singer. I wasn't confident about my voice. I was, however, keen on professional acting but, after spending some time in the industry, I can say I'm not happy with it. David Dhawan's Aakhen was an enjoyable experience, but not great for my career. I followed that up with Main Khiladi Tu Anari to improve things for myself, but it didn't work.'

One of the main things that disillusioned her was the fact that everything offered to her wasn't meaty enough. "All these three-heroine movies, where the producers tell you, be happy, you have a song and you're in the climax too -- as if that is what a person should aspire to." Bored, she decided not to pursue films, though she is finishing the two projects she had already committed herself too. "Both Mukesh Bhatt's Dil Kitna Nadan Hai and NFDC's Tum Jiyo Hazaaro Saal are slightly off-beat, with an interesting narrative," she explains, "And that's the kind of work I'm looking out for."

Around this time, she met Sunil Sajwani and BPL Oye happened. "As a VJ, I discovered a lot about myself. Like this comic element in me that I never knew about. And people loved me -- I actually got tons of fan-mail! My patience and hard work had finally paid off."

That could be because TV and film are two different mediums -- while she was lost in the movies, veejaying centred the show around her. In any case, success as a VJ established her as a household name and naturally, product endorsements like BPL refrigerators and Cadbury's Perk came her way. "More than the money and work, the people were great -- intelligent, well-read, very different from the filmi crowd that I was used to."

Considering everything was going for her, why venture into uncharted territory -- singing? "Well, it all started with my father, who's been interested in music for and many years now. In fact, 25 years ago, he won a national award for the music he composed based on the theme of freedom. But, back then, he had a family to support, so he opted for a government job as opposed to being a full-time composer. He kept in touch with his riyaaz, though, and he was dedicated to it in a completely non-commercial way."
Among the many songs he composed were Oye Shaba, Raafta Raafta and Chahat, all of which are included in Duniya. And he encouraged Raags, who loved singing, to work along with him. "I started just for the heck of it but, later, things got serious." They recorded a demo tape which the music companies thought was "too serious for my cute image," she recollects. "They wanted me to stick to the 'tu tu, chu chu' stuff, but I didn't want to do that. I wanted to make music that has a message. It doesn't have to change your life, but it has to be relevant."
Disillusioned with the response from the music companies, they decided to produce the albums themselves. "But we were lucky. We found a sponsor like Coke and, later, BMG Crescendo stepped in. So it all went very smoothly."
Duniya, according to her, is a contemporary album with a traditional base and different elements. "It's an upliftment of pop music. We thought, why ape the West when we have so much to choose from here? And so, in Duniya, we've fused simple traditional melodies and lyrics with reggae, to make a pretty interesting combination."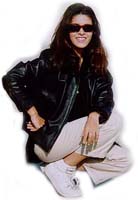 But is that the kind of stuff that is selling today? "Dad understands young kids and what they want -- don't get taken in by all that grey hair! Seriously, his Urdu is pretty tough, but it sounds beautiful. And as for how the album's doing -- well, we've got repeat orders from Cochin and Trivandrum, despite the fact that Hindi pop never sells in the south. We sold 1,25,000 copies, a first in the history of Indian pop. We increased the cost of the album, though we weren't too happy doing that. But I console myself with the fact that we're doing free publicity tours for Coke."
Was it an easy move, from veejaying to singing? And did the fact that she was already an established face have anything to do with the success of her album?' "I can't think of anyone in India who's made as many changes as I have. While I was anchoring Oye, I was pretty much in touch with what was happening on the music front. So I'd like to think I'm clued on in to the scene. As for people buying my music because of my VJ status, I don't think curiosity could drive you that far. And, if being a celebrity had anything to do with it, then why wasn't Amitabh Bachchan's Aby Baby successful?
"I think that being known does generate a fair amount of interest, but that's about all. After that, you and your music stand alone."
But is she really standing alone? Considering that her father's composed the album and her brother Rishab's directed both her music videos, Duniya (the title track) and the recently released Oye Shaba? All in the family, is it?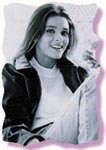 "So you think I'm trying to save money?" she laughs. "Seriously, we respect each other's talent and that's why we work together. Duniya was well-shot, the clean look suited the song and Rishab wasn't even paid a penny. Oye Shaba, the other video has a very different, almost grunge look but, again, that suits the song.
"If I were promoting someone with no talent, I'd understand people pointing fingers at me. But I'm working with some of the best creative talent available, so why talk?"
Raags sees music as her future, because she believes that Hindi pop is really 'going places'. Recalling something she had read, she says, "The article talked about how the West is exhausted today, and about how the next superstar or phenomenon was going to be from Asia. I'd agree to that, because we have so much going for us -- there's the Colonial Cousins, Alisha Chinai -- I respect their music so much."
Reflecting a moment, she adds, "It's difficult to be different, because people tend to criticise you more. But I think that if you stick to your beliefs, you definitely can conquer the world."
Tell us what you think of this profile