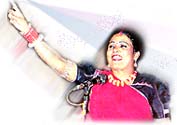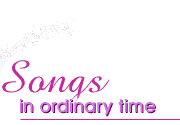 Archana Masih
The colour scheme is hardly incongruous. Teejan Bai, instead, is a vibrant patch on the stage. Red sari, purple blouse. Orange sindoor (coloured powder mark signifying marital status) through neatly oiled hair. Large round bindi (red dot) above betel-stained teeth. Silver jewellery, pink tassels. Tattoos. The precious peacock-feathered, red tamboura (stringed musical instrument).
"If I don't have my tamboura, I cannot sing a single note," she says of the instrument that had faithfully stuck by her side. Not that she uses it as a musical accompaniment. Just a couple of sundry brushes with its strings, after which it assumes different personifications. Dushyasan's arm. Arjun's rath (chariot). Draupadi's hair. A gada (mace). A teer (arrow),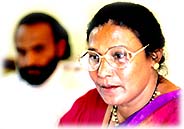 She relates the familiar tales from the Mahabharata with gusto. In the unique Pandavani style. Of singing and enacting ballads of the Pandavas in the fiery Chattisgarhi tradition. A narrative folk form that she learnt from her grandfather in their village in Madhya Pradesh. Which ultimately became her vocation, took her to several countries and won her a Padmashree in '88.
"It is heartening for me to take an Indian heritage like the Mahabharata outside my country, to people who have no understanding of the epic. I feel so happy with their response, when I am requested to repeat my performance twice or thrice at one go," she says enthusiastically.
"England, France, Switzerland, Germany, Turkey, Tunisia, Malta, Cyprus…" In a single breath she rattled off the names of the countries she has performed in. "But Paris remains my favourite. The evenings in Paris are so wonderful," she says with a wide grin and makes it a point to mention that she had visited the city all of three times.
It is the sheer energy of her lyrical, rustic style that added to Teejan Bai's charismatic performance. Without compromising on the religious value of the Mahabharata, she has continued to add interesting innovations. Her stories are interwoven with colloquial slang where she also sings, dances, shouts and delivers dialogues through the performance.
"Teejan Bai interprets the Mahabharata as per her own perception within the traditional framework. But often offers a social 'critique,' sprinkling her tale with words like yaar, time pass and sometimes English words, picked up from conversations and television serials," assessed leading dance critic Sunil Kothari in Bombay Times.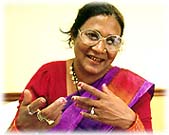 While her accompaniment is a sort of an extended family. Her husband, brother-in-law, chacha and another two village associates accompany her on the harmonium, dholak, banjo and tabla. "Our best practice is when we are on stage. From my lip movements and the quivering of my cheeks, they can make out what I am singing. Moreover, experience is the best tool of a performer," she says of an association that has run for nearly 30 years.
Her shows take her away from her family in Bhilai several times a month. "But my husband is with me, he even comes to drop me to work when I am at home," she says coyly. It was after her appearance in the Festival of India that the Bhilai steel plant offered her a job. An illiterate Pardhi tribal, she was taken on the muster roll as a labourer. Since passing tea and giving water was hardly the services her seniors would take of her, she remains confined to the muster.
"Since I am an illiterate, I can't do any paper work. I just go sign the roll, chat with my colleagues and come back," she adds candidly. She lives in the company quarter with her children and grandchildren. But concedes that none of her children are interested in Pandavni. "Art cannot be forced. Until Ma Saraswati gives the inspiration, no art can originate in any person," is her clear reason.
In Teejan Bai, Ma Saraswati dawned very early in life. But it was after many hardships that she could pursue her aesthetic calling. From a family of traditional bird catchers who moved into making mats and broom and ultimately took up farm labour, hers was a difficult beginning.
The oldest of five children, she was married off at 12. Her marriage split and she was ostracised by the community because of her love for Pandavani. She gave her first performance on a makeshift stage in a neighbouring village for Rs 10. Invitations from other villages started coming until she was noticed by Habib Tanvir, the famous theatre personality from Madhya Pradesh. She went on to perform for Indira Gandhi, participated in several festivals and became the first female exponent of Pandavani.
She took to the Kapalik style of Pandavani, where the narrator depicts scene from the epic and improvises consistently. Till then, women had preferred the Vedmati style, where the performer sits and narrates the story. Along the way she remarried thrice, and now lives with her fourth husband and five children.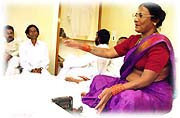 "People called me characterless because I sang and danced in public. My second husband used to beat me. What could be more painful for an artist than not being able to perform. I can never forget that difficult path I have left behind."
But, through her art, Teejan Bai has found an outlet to depict the hardships that women like her have had to face. "My favourite story is Draupadi cheerharan," she says as it were a balm. "Through this story I want to tell people not to commit atrocities against women. Otherwise, they'll face the fate that befell the Kauravas."
At 41, those memories are too vivid to ignore but, with time, she has learnt to take life as it comes. About her present husband whom she addresses as "Mister" she says rather matter-of-factly, "He has been good to me so far, let's see what happens ahead."
When at home, Teejan Bai teaches Pandavani to youngsters and believes the art will continue to thrive after her. "Otherwise, at home, I do all the work ladies do. Since I am very forgetful and love to chat, many a times the tea lies forgotten on the fire," she laughs.
Unlike many artists, she gives a lot of credit for her popularity to government patronage. "They invite us to different places, give us a stage, inform people about our folk style and help us to bring our art to others. What else can artists ask for?" she assess carefully.
Teejan Bai believes that her calling came from Lord Krishna. And red tamboura that she kept seeing in her dream as a child was no coincidence, but would become an inseparable part of her life. As inseparable as the countless paans (a concotion of lime, betel leaf and crushed arecanut) she chews through the day. "I eat paan whenever I feel like it. My favourite is the Bangla paan, but I don't mind having a sada (plain) paan with lavang (clove) and elaichi (cardamom)," she says showing us the wet cloth containing her precious pattas (betel leaves).
There are other weaknesses too. Cards and pickle. "On tour, I spend time by playing cards," she said, shuffling the cards she had been playing a little while ago. While, on the bedside rack, a large steel tray of mango pickle sat below two bottles of Godrej hair dye. No traces of vanity, just essential make up requirements for the stage. Willingly obliging us with photographs, making no attempt to remove the towels hanging behind her.
It is her inhibited, fiery style that lends to Teejan Bai's charisma. Though she says, "I don't know what is in my mind when I am on stage," her energetic performance is powerful enough to draw urban yuppies into her rustic rhythms. Much more than anything else, it is for making this contact that Teejan Bai will be best remembered for.
Photographs: Jewella C Miranda
Tell us what you think of this profile