Amrapali Singh in New Delhi

Today, the golden voice at Motia Khan belongs to 38-year-old Shubha Mudgal, who has been making classical, and controversial, waves in the world of music.

The latest in the wave of purist accusation is the fact that she has contributed to the music of Mira Nair's controversial film, Kamasutra. "I even have a two-minute role in the movie,'' she tells you, a gleam of mischief in her huge, kohl-lined eyes. "I play a classical singer who gives a performance at the Jai Niwas palace in Jaipur.'' Though the overall music in the film is by Canadian music director Michael Danna, Mudgal has provided the Indian touch to the film's music.
Highlighting the controversy is the fact that a Rs 800,000 case has been slapped against her by the Shriram Bhartiya Kala Kendra. They claim that she has illegally used the music of their ballad Meera, in Kamasutra.
"First of all," says an angry Mudgal, "I provided the music for that ballad. And we did not sign a contract for that music. So how can they say it belongs to them? Moreover, I have set this particular musical score on Meera's lyrics. Where does the Kendriya come in the picture? People like Shobha Deepak Singh (director, SBKK) take advantage of the artists' gullibility.''
Not, of course, that Mudgal is new to controversy. Her first attempt at popular music, in the form of a collection of Sufi songs, was an instant rage with the public. It also generated a lot of negative criticism and her cassette, Ali More Angana, was trounced as an attempt to portray herself as the India counterpart to the immensely popular Ustad Nusrat Fateh Ali Khan.
The purists, on the other hand, frowned on a classical singer who, according to them, was stooping to the level of semi-classical and, worst of all, popular music. But Ali More Angana -- the lively, colourful album with soul-stirring Sufi lyrics where God is both the lover and the giver, the teacher and the friend -- was a rip-roaring success, with the younger generation in particular.
Which was exactly what Mudgal was hoping for when she signed a deal with Magnasound. "If," her otherwise gentle eyes flash again, "my effort has made people stop and listen to words and tunes which they would have otherwise shunned, why not? I haven't deviated from my music, only experimented with the beat. As long as my conviction remains intact, I will have no hesitation whatsoever in continuing to do so."
Experimentation, in fact, is the by-word for this singer. "I don't intent to repeat the Ali More... experience, but I have no regrets either,'' she says firmly. And, what with giving musical scores to television serials like Firdaus and Sayeed Naqvi's Mera Bharat to performing live in Sahmat's (the Safdar Hashmi Memorial Trust)'s Artists against Communalism concerts, Mudgal has been anything but conventional.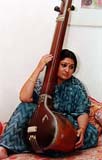 In the process, she won an award for the music she provided for Meera Dewan's award-winning documentary Amrit Beeja and for the music she set for NRI film-maker Rajan Khosa's Dance of the Wind, a short film on the guru-shishya parampara (the teacher student tradition). "I think both these films have helped me in my effort to popularise classical music," says Mudgal.
The classical tradition is obviously very close to her heart. Yet, her training did not begin until she was 16 years old. It was only at the suggestion of her mother that she began learning classical singing under Kamala Bose in Allahabad. And she discovered that her strong, booming voice, which could encompass a wide range, was eminently suited to the genre.
Ram Ashray Jha, her next teacher, introduced her to the soul of music. Later, after her marriage, she studied under her father-in-law, Vinay Chandra Maudgalya. Eventually, she honed her talent under classical greats like Kumar Gandharva, Vasant Thakar, Jitendra Abhisheki and Naina Devi.
Yet, Mugdal, despite her belief in the classical tradition, refuses to be bound by its rigidity. She does begin her day with riyaaz, but with tending to her family, her daily household chores and her seven Dalmatians. Riyaaz, for Mudgal, happens between 10 am and 1 pm. She also used this time to guide music research scholars who come to her for help.

The rest of the day goes by in a jiffy, with appointments and recordings and meeting more people. "I just know," says Mudgal, as she leans back into the pillows, "that I want to be associated with music is some way of the other -- either as a teacher, singer or a composer. That's my only aim in life.''
Besides, of course, singing in a mehfil at a historical site in front of select audience!
Shubha Mudgal's photographs: Atul Chowdhury
Tell us what you think of this profile