Cool Dude
Bian Lobo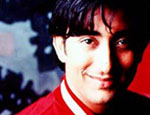 Why is it that, everywhere I look these days, I see Rahul Khanna? I switch on MTV and there he is. I open the newspaper and find his face staring back at me. And now, he's even haunting the movie magazines... I mean, what is it with this guy? So what if he's actor Vinod Khanna's son, so what if he's an MTV VJ... he can't be that great.
Rahul was probably born with a silver spoon in his mouth. It doesn't show, though. He's probably the most down-to-earth guy I've met -- a total contrast to what I had pegged him to be. Blue jeans, white shirt... his dress conveyed a lot about who he really was. For that was Rahul in a nut shell... casual and comfortable.
Born to Vinod Khanna, a popular actor in the Hindi film industry, and his first wife, former model Geetanjali Taleyarkhan, Rahul has always been in the limelight. "That's how it is with a celebrity's kids," he says in a tone that seemed convey the message -- 'no big deal'. "I never felt any different from the other kids, I went to a school where there were loads of kids whose had celebrity parents." And, say his teachers, he was talented.
I guess it was this talent that convinced him he was good enough for theatre. So, off flies our hero to the Lee Strasberg Institute for Method Acting, New York. Was it parental pressure? "There was absolutely no pressure from my parents," Rahul was indignant. "I guess, you could say it's in my blood. I knew I wanted to get into the entertainment industry and that was enough for me to join Lee Strasberg."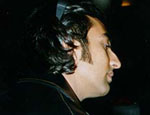 But isn't theatre tough, isn't there racial discrimination like the rumour goes? "That's fictitious, it's quite the opposite. While the American kids were freshers to the whole acting business, I was already exposed to it. I had a better sense of what I was getting into. I spent a year there and it was fun," says Rahul.
What was this guy like in college, I start to wonder! It's almost as if he's too down-to-earth, too cultured... "All I can remember about him was that he wasn't too friendly. In fact, he was known to be a snob," says someone who was with Rahul at St Xavier's College, where he studied for two years. "He had this select group of friends, he stuck to them and all they ever did was sit around."
But whether the States transformed the snob in Rahul or he decided it wasn't him is something one can never be too sure about -- after all, he seemed friendly enough. After Lee Strasberg, he joined the School of Visual Arts, training in direction, production, editing and writing scripts. Writing? "I love writing," he grins.
Obviously, there's more to Rahul than meets the eye. He claims to enjoy reading and has quite an eclectic taste in books. His favourite, however, are well-written erotic books. "Not pornography," he hastens to clarify, "but tasteful stuff. At the moment, though, I am reading Salman Rushdie's Midnight's Children."
It a let's get-the-record-straight-at-this-point spiel. Rahul Khanna, who used to be snob, is now a really nice guy who's interested method acting, veejaying, reading, writing, et cetera, et cetera, et cetera.
But what's still more interesting is that Rahul has gone beyond the isolated existence most celebrity kids lead. I mean, how many celebrity kids spend a large part of their teenage lives doing summer jobs? And here I was, under the impression that he had everything handed to him on a platter.
"I've done several jobs," says Rahul. "One summer, I heard Disney were looking for volunteers to publicise animation. Now, New York summers are really intense and, when I took the job, I had to wear this seven foot costume designed to look like Tom (of Tom and Jerry fame). It was no joke, but it was fun."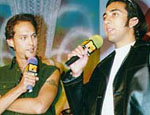 MTV VJ Danny McGill with
Rahul Khanna


So why does a method actor or to-be-actor become a video jockey? "MTV wasn't a conscious career decision," says Rahul and, looking to put my doubts to rest, adds, "it wasn't through influence either. I just heard that they were looking for an Indian VJ who was based in New York and I sent in my application with a picture."

Rahul joined MTV in August, 1994. Today, three years later, he's hosting five shows -- India Hitlist, MTV Select, MTV Most Wanted, MTV Hanging Out and MTV Fresh. And he hasn't had enough of MTV. Not yet. "I love my job, it's a young, creative, exuberant line, it's excellent." His enthusiasm is evident; Rahul was meant to be on your TV screen.

But he plans to move ahead... sometime. Someday, he wants to be on the big screen. "I really don't have any definite plans," says Rahul. "I do know I want to get into the movies, but I never make plans. I don't even know what I am going to do next week."

But, for a guy who doesn't think or plan for the future, Rahul seems pretty sure of the type of films he wants to do. "I know I don't want to get into the commercial film industry. I'd really like to work with Mira Nair -- I love Salaam Bombay -- or someone like the Merchant-Ivory team." He's also pretty sure about the type of people he wants to work with, "Actually, I'd prefer to work with people who go with my work ethic." That maybe hard to find, but Rahul remains unfazed.

It doesn't bother Rahul that his younger brother, Akshaye, has already a pretty strong impression on the Hindi film industry. And he is not worried about the fact that the public will always associate him with his father and brother. "That's okay by me," he shrugs. "My movies will be very different from theirs; I'm pretty sure I can create an identity of my own. Once you get your foot through the door, it's your talent really counts."

Rahul claims to have a great relationship with his parents and brother. It makes me restless. Is this guy too good to be true? No ups-and-downs in his relationships? No healthy sibling rivalry? I persist with my questions. " I have a great relationship with my brother," insists Rahul. A statement refuted by Rahul's schoolteacher, "Akshaye doted on his big brother, but Rahul did not even give him the time of day."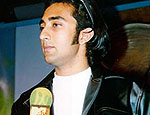 What about his parents' divorce, I probe, determined to find a flaw that would lend a touch of reality to the perfect picture my interviewee was creating. "I never talk about things like that. It's too personal." I had hit a brick wall. Maybe, things weren't so perfect after all.
I didn't have to grill Rahul to find out that he's widely travelled. He seems to enjoy moving from place to place, meeting people and he easily adjusts to different environments. "Life in any big city is very much the same, it's fast. New York is one of my favourite cities, but Bombay is my home."
He narrates how he took a trip down the coast of Florida and got an opportunity to swim with the dolphins. "I have also been to several places in India, but I still have to visit Rajasthan. India is really beautiful, but we don't take care of it."
When it comes to movie idols, though, there's no room for doubt. "My dad was absolutely the best," he says, with a hint of pride in his voice. "He's done a lot for the Hindi film industry."
Does he want to be like his dad? "It will be a tough act to follow," Rahul admits. Besides, theatre is one of his favourite forms of art. "But," he says, "theatre is unrewarding in India and that stops a lot of people from opting for this line."
Despite my skepticism, interviewing Rahul Khanna is more like having a good chat with a friend. It's the kind of conversation you look back on week, maybe months later, and say to yourself, "Actually, he was a quite cool guy."
Tell us what you think of this profile