Archana Masih meets India's bestknown gay.

The association begins with a preliminary word of caution. "No, please don't refer to him as Dr Sylvester Rodgers. He likes being called Sylvie," said his sister on the other end, the background activity of the salon filtering through the telephone line. There is no room here for a Livingstonesque introduction. In our times, if Sylvester wants to be known as 'she' and introduced as 'Sylvie', so be it.
"I don't label myself as gay, homosexual, transvestite or a woman. I just say I'm Sylvie and I'm there." Comfortable with his sexuality, Sylvie does not mince words. To avoid a confusing clash of genders and facilitate a comfortable rapport, I consciously omit references of 'he' or 'she' and dutifully stick to 'Sylvie'.
The staircase to his top floor apartment is marked by Hollywood icons. Some have yellowed and their edges have frayed. The two men sitting with Sylvie are asked to wait inside. The corner table is full of mismatched photo frames. On one side of the wall hangs a glamorous picture of Sylvie in a white flowing gown. "I wore that as a show-stopper for a function in Lucknow. It is a 23-metre sequinned gown with a veil," he says, pointing to the picture. The same photograph is used on his call card, with his name and address in the left corner.
One of Delhi's leading hair stylists and make-up artistes, Sylvie says he didn't know he would leave behind his six years as a general surgeon in London to become a hair stylist. "Yes, I was a doctor at St Luke's, London, delivering babies and all that. But, believe you me, I was the wildest doctor in the hospital -- I was the only doctor with purple hair!"

Though not purple anymore, I could see Sylvie's pony tail under his crochet cap. The eyebrows are shaped, no hair on the arms. Dainty gold bracelets, rings and earrings. Of mixed parentage, a Dutch father and Anglo-Indian mother, Sylvie grew up in Calcutta. After finishing his senior Cambridge from St Paul's, Darjeeling, he was off to England to study medicine.
Six months of pending leave took him holidaying to Chicago. It was there that a hair dresser cousin at the American Institute of Aesthetics introduced him to hair styling that first became a hobby and, later, a vocation. "First I killed time doing some odd modelling, etc. I modelled my beautiful hair, dyed with the permanent colours of a rainbow, for my cousin. For me it was a question of, what the hell, I could cut my hair and grow it again."
Amazed at how students at the institute treated hair like fabric, painting, beading or weaving it, he enrolled for a course. "They gave me an exam on the anatomy of the human body. They obviously didn't know I was a doctor," he chuckles, "and I secured cent per cent marks."
After repetitive extensions from St Luke's, he completed a masters in cosmetology, secured a license to practise from Minnesota and started working. A couple of trips to England to collect his documents and his money and that was the end of stethoscopes, "delivering babies-and-all-that" and St Luke's hospital.
"Paani le aao, bete... (Bring some water, son...)" he calls out to his attendant who, all this while, has been peeking out curiously. "He's new to the house. He gets very star-struck when he sees people interviewing me, clicking pictures and gets very excited when he sees me on television. Two of my servants have gone for holidays and the house manager is out. But he is very star-struck, na..."
"Chai banana do cup, nahin teen. Andar bhi dena...(Make two cups, no three cups. Give some inside as well...)"
"Then I went to New York and found a nice Indian guy from Kerala. He eventually married me in '81." He is candid. Very matter of fact. Providing personal information without any inquisition. "Soon after marriage, we adopted two sons and came to India the following year," he continues.
His mother-in-law's precarious health brought the couple to India. Three months in Kerala were spent in looking after her. His medical skills assisted her in recovering from a major heart attack. However, she had to be shifted to the Escorts Institute in New Delhi. "Since she was to remain hospitalised for another three-four months, I told my husband that I couldn't sit doing nothing. He came from a rich family and could do without working," he explains.
A job at a salon came along, then some teaching and another salon where "things really took off". He became popular and, two years later, opened his own parlour. But things were not easy for a hairdresser who walked the streets in women's clothes and had little knowledge of Hindi. There was even more: He was homosexual, he was open and the first to move around as a transvestite in a sexually restricted atmosphere.
"People called me names... Foreign chakka aa gaya, foreign chakka ja raha hai... hijra... g**** (The gay from abroad has come, there he goes... eunuch... b****). It was tough." Sylvie often returned home in tears. Frustrated with his lot, even though he believed he wasn't doing anything wrong. With the notion that his sexuality was his own individuality, he tried confronting the surrounding hostility. "My husband felt bad. A black belt in karate, he would end up bashing someone. I told him I couldn't bear him killing someone for my sake."
Sylvie called for his mother and children from England and, along with his mother-in-law, they all started living in an apartment. The arrangement was short-lived. The two older women couldn't get along and Sylvie moved into another flat with his mother and children. "My husband came to my flat very often, spent the night and we would go and see his mother in the morning," he says. "He was quiet; he preferred sitting at home with the kids and watching television."
"Darwaza kholo... Johnny, darwaza kholo, koi aaya hai...(Open the door... Johnny, open the door, someone has come...)
Despite the difficulties, Sylvie liked India enough to give up the thought of returning to America. His mother's support remained his anchor through troubled times. Obviously, she is someone he holds very close to his heart. A 15 minute prayer is devoted to her every morning. "She told me to live in dignity. If I was made like that, she asked me to live like that. Nothing is taboo, she stressed. Homosexuality had been in India since ancient times and would always be there," he recalls.
Last year, his mother passed away. By then, she had already laid the ground to help Sylvie cope with his 'difference'. Life has changed for the better since he came to India. He feels people have accepted him and his work. "Don't ask me how, but everything changed very fast and now, as you know, I'm a big celebrity."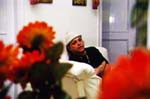 On the personal front, though, Sylvie is now separated from his husband after 13-14 years of marriage. "I don't know how he married me in the first place. He was already engaged to a girl, but he fell in love with me." Telling me more about his relationship, he says that they reached a point where his husband couldn't accept his celebrity status and wanted him to leave everything and come to Nigeria, where he had picked a job.
"I was upset when he didn't come down after my mother's death. He would have lost his contract if he did. But that was the time I needed him most. I'd lost my voice -- the shock had been too much for me. I had to be taken to Switzerland for treatment." The incident triggered the separation. Sylvie remained in India with his children. Now 16 and 14, they are looked after by his sister. Every Tuesday, which is his day off, is spent with them.
His husband, who is still in Nigeria, got married to a woman last year. "He never invited me. But my devar (brother-in-law), who is very fond of me, sent me a card. I was the first person to wish my husband outside church," he says.
"Sonu kidhar hai? Tum bedroom mein baitho, main interview de raha hai. Tum aisa karo, darwaza khula rakho... Baitho, baitho some friends are there... (Where's Sonu? You sit in the bedroom, I'm giving an interview. Keep the door open... Sit, sit...)
The boys, in their early twenties, are directed to the bedroom. Sylvie tells me he's in love with a boy who is much younger than him. And that this boy is supposed to join Sylvie for the evening. "I'm very mature about this relationship. I don't impose myself. If he cannot make it on time, I don't get angry."
Sylvie confesses his admiration for young boys. "I'm basically a flirt," he says. Getting into a permanent relationship seems unlikely at present. "I can't go through another heart break," he reasons. He knows the boy he's seeing now will get married to a woman in a few years. Relationships always get over, they never last. "We look happy and full, but I'll always be hurt because I'm always falling in love with straight men. It's going to happen all the time and I have to live with it."
Over the years, Sylvie seems to have learnt how to deal with his personality being caught in a 'straight men' environment. His previous boyfriend, "a jat," is now in Bombay, trying his luck in Bollywood. That relationship lasted 10 months, until the jat married a woman. The marriage fell apart soon enough and he returned to Sylvie.
"Where's he? He isn't at home. I called under a different name and his mother said he's not at home..."
Sylvie talks openly of his relationships, his sexual preferences; in fact, he is elaborately explicit. He only lowers his voice when his boyfriend enters, telling me under his breath that he didn't want him to hear about his exploits.
He feels much has changed in the Indian attitude towards homosexuality. Two years ago, people didn't want to be seen with a homosexual because gays can be spotted a mile away. "But now, since the exposure has increased, people have begun to realise that gays are human beings at heart," he explains. Now, when Sylvie is a guest at any function, people flock to him, kiss him, hug him, shake hands and ask for autographs. "That is acceptance, nobody gives me a dirty look."

Such enthusiasm, he says, is not restricted to the metros. He claims to have experienced the same warmth in a conservative city like Lucknow. "The people just screamed when I appeared on stage. I met three boys, absolute strangers, who helped me organise my make-up because I'd left my kit in Delhi. I was in tears when I realised that. My make-up kit is my face and my face is my value. Those boys stayed with me throughout. And, later, one of them even spent Christmas with me."
Social acceptability, Sylvie believes, can only come by being open. "The homosexual community should have the courage to come out. The world is not such a bad place after all."
For Dr Sylvester Rodgers, who last wore a pant and shirt during his stay in London, the christening to Sylvie has been a complex transition. To us 'straight folk', a strange metamorphosis, perhaps one difficult to comprehend. Nevertheless, he has made a dent in the Indian social structure, is comfortable with his identity and his lehengas, shararas and backless cholis. They too seem to have come of age.
Photographs: Jewella C Miranda
Tell us what you think of this article