The Songs Of The Fathers...
Shobha Warrier in Madras

Perhaps it was all those trophies, shaped like musical instruments.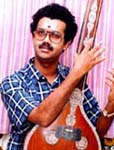 Or the quiet strumming of the tanpura, as note after musical note was dedicated to the feet of God. Or the after effects of the morning pooja that had just been completed. Whatever the reason, the house had an aura of peace and tranquillity.
For Rajkumar Bharati, it was a familiar routine, as familiar as the music that surrounded him since the time of his birth. It had something to do with the atmosphere that he grew up in, an atmosphere which made it impossible for him to remain away from the arts. Both his paternal and maternal homes reverberated with discussions on music and literature.
The atmosphere was a legacy of his great-grandfather, the legendary poet-laureate Subramaniya Bharati, whose fiery lines still instill a sense of patriotism in a jaded Indian public. And the great-grandson revels in the attention he gets because of his hallowed surname.
"Initially, I did not realise the significance of being who I was. And then, one day, I attended a function in honour of Bharatiyar.

I was about four years old but, even at that age, I noticed the importance accorded to his granddaughter, my mother. My little mind began to comprehend the fact that I was born into a very special family."
This renowned young Carnatic musician's initiation started at the age of five. His mother, an excellent Carnatic singer, sensed the dormant talent in her young son and guided him on the path of music.
"The encouragement shown by my family played a vital part in my life," admits Rajkumar. "It was not only their appreciation; I was never compelled to learn music. Instead, they just provided me with the facilities I needed to hone my talent. And I enjoyed every moment of it. Besides, the number of prizes I won as a child motivated me to devote more and more attention to music."
Yet, he did not ever consider using the Bharati surname -- he is related to the great poet through his mother. Until 1982, when an enterprising Doordarshan producer realised the value of making Subramaniya Bharati's great-grandson sing some of his compositions in honour of his birth centenary. "The producer changed my

name to Rajkumar Bharati and the response was tremendous. People were overwhelmed to hear Bharati's great-grandson singing his songs. I began to realise that the surname was of great advantage to me."
The year also marked a serious directional change in Rajkumar's thought process. Till then, music was life to Rajkumar -- but it never featured in his list of career choices. He was following a set path -- though all the members of his family were well versed in Carnatic music, not one of them was a professional.
"In those days, music was never considered a serious career; everyone dissuaded me from even considering it," says Rajkumar. "Thankfully, things have changed. Today, one can seriously consider taking up music."
Yet, in its own small way, music always had the upper hand in Rajkumar's life. Faced with a choice of doing engineering at the premier institute at Pilani and a local college in Madras, he opted for the latter. It gave him more time with his music. Again, when it came to a job, he opted to work in Madras itself. He even rejected a career in the Indian Engineering Service.
Trained by Valliyoor Gurumoorthi and, later, T V Gopalakrishnan, he gave his first solo concert in 1976. It began with the Indian Fine Arts Society's yearly competition which awarded the winner with a tanpura and a chance to perform at the December music season. Rajkumar won the tanpura.

"I was," Rajkumar recalls, "slightly anxious. I wanted everything to go off well. Later, of course, the emotions change. Once you start enjoying music, the tension does not rise to a level where it can affect your performance. The eagerness to perform overcomes the fear."
He was at a stage where he did not want to stick to Carnatic music alone. He experimented with light music, choir music and Hindustani music. He even sang film songs beginning, as usual, with Bharatiyar's compositions for a film called Ezhavathu Manithan under L Vaidyanathan's baton.
Vaidyanathan's subsequent offer of a Kannada film led to a lot of similar offers. But singing film songs had its repercussions. The purists scoffed at him; he had to swim against stiff opposition to perform concerts. Also, he was finding it increasingly difficult to juggle his job and his love for music.
"I was doing an injustice to both my job and my music. My guru, TVG, told me to quit my job if I wanted to shine in the field of music. Initially, of course, I had no assignments. And that worried me tremendously. Slowly, I realised that nothing changes by your worrying or bothering about it; what has to happen will happen."
Musical satisfaction became paramount in his life. So much so, he stopped singing for films when he realised he no longer derived any joy from it. "I began to feel there was something lacking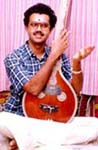 somewhere," recalls Rajkumar. "The divinity of Carnatic music was missing in film songs -- and music is divine to me."
In fact, music is his life, his worship. "Music keeps your mind balanced and floating. It is a medium through which I am able to communicate with people and give them a sense of peace and happiness. After a concert, when somebody comes and tells me he forgot himself for a moment, I feel satisfied. I am indebted to God for having chosen me to give that elated feeling to somebody."
He started delving deeper into the works of his great-grandfather. It made him look at life from a different perspective. People began to expect him to sing more and more of Bharatiyar's compositions. "Musically, spiritually, philosophically and content-wise, I found his work rich," says Rajkumar. "I began understanding life as a whole. It is only because of my association with music that I could understand my country and my God... I am not saying that I understand them fully; my search continues."
Photographs: Sanjay Ghosh
Tell us what you think of this article