A Ganesh Nadar
Will the villagers succeed?


Murugesapandi

Murugesapandi got a shock. "No... wo... make that one day earlier," he said.

Ganesh dashed off letters to the railways, Dhanuskodi Aditan, the district collector, the tahsildar and the inspector of the local police station. This time, he explained that, as all their petitions had fallen on deaf ears, they had decided to take the extreme step of going on hunger stir and then blocking the track. The letters were couriered, as the post office might have delivered the letters after the event.

Murugesapandi printed 500 notices and had them distributed in the surrounding villages. It explained the problem and the planned action. The notice said that two panchayat presidents, two union councillors, the district secretary of the Tamil Manila Congress and a local Muslim leader would go on a hunger strike. They gave the railways three days to accede to their request before blocking the track.

Dhanuskodi Aditan was in Tirunelveli. Murugesapandi, Radhakrishnan and the Angamangalam president went to meet him at his Palayamcottai office. The minister didn't turn up. His PA asked them what the problem was. They told him. He immediately phoned the DRM in Madurai and requested him to consider the villagers' plea. The DRM said he would think about it. The PA gave them a letter addressed to the DRM. It said Aditan was interested because the station was in his constituency.

On the way back home, they discussed who would go to Madurai. "We'll have to take Ganesh, the PA said the DRM speaks only Hindi and English," said Murugesapandi. "Remind Ganesh to use an even tone and not a challenging one," warned Radhakrishnan.

On Friday morning, Ganesh was chatting with some people near the canal. Murugesapandi met him there. "I was coming to your home. We have to go to Madurai today. Tomorrow is Saturday and Monday is hunger strike day." "Why?" asked Ganesh. Murugesapandi explained.

An hour later, they left for Madurai, 200 km away. At four pm, they were outside the DRM's office which is near the Madurai railway station. The sign said 'S C Gupta - divisional railway manager'. There was nobody outside so Ganesh barged in. Murugesapandi was shocked but followed gamely.

The DRM was discussing something with one of his clerks. He was surprised. "There was nobody outside, so I..." Ganesh used his most apologetic tone.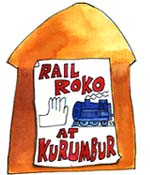 "That's all right. What's the problem?" said Gupta.
"I've bought a letter from the minister's PA -- he spoke to you yesterday." Ganesh handed over the letter. Gupta initialled it and said, "I'll look up the performance of Kurumbur station and get back to you."
Ganesh sat down without being asked. Murugesapandi plonked down on the next chair. "Sir, let me explain the problem. We have quota tickets on the Kanyakumari Express. How do you expect the passengers to reach Tirunelveli, if the connecting train doesn't stop there?"
"Quota tickets are just one facility we've given you to save you the trouble of coming all the way to Tirunelveli to buy a ticket. Just because I give you one facility, it doesn't mean you can demand another facility," said Gupta. "If I take away the quota, you'll be quiet."
"Suppose you give me a child and I tell you the child is crying of hunger, will you give me food or will you snatch away the child?" asked Ganesh.
"For that train to stop and start, we need 10 litres of diesel. It would otherwise travel 35 km on that diesel," said Gupta.
"Sir, the railways might be running on a profit in Madurai because of the population. But you can't expect every village to perform as well," said Ganesh.
"Apart from the quota tickets to Madras, nobody buys local tickets," said Gupta.
"The reason for that is that the train fare to Tirunelveli is Rs 9 and the bus fare is Rs 6.30," said Ganesh.
"Go by bus, then; why do you want the train?" asked Gupta.
"There are season ticket holders. We have college students travelling to Tiruchendur and Srivaikuntam," said Ganesh.
"I'll check that out and let you know," said Gupta.
"Sir, it's a bit late in the day to check. We are going on a fast on Monday and, three days later, we have to block the track."
"You come here on Friday to say you are going to fast on Monday. If you've come here to discuss, I am ready. If you have come to threaten, I am not willing to talk to you," said Gupta.
"By fasting, we hope to earn your sympathy. We don't mean to threaten you."


MRG, the head of three
villages

"If you fast, you save food for the nation. I'll be happy," said Gupta. "If you block the track, the train won't run that day. But it will run the next day. Next, you'll threaten to burn the train," said Gupta. Ganesh put on his most hurt expression. "We wouldn't dream of doing something so stupid," he said firmly.

"Your have to give me some time," insisted Gupta.

"I've been writing to you for the last three months," said Ganesh.

"You should've asked your MLA or MP to write to me," said Gupta.

"The problem is that both our MLA and MP are ministers, so it isn't easy to meet them," said Ganesh.

"So what, ministers' PAs are more than ministers today," said Gupta with a grin. Ganesh wondered what the PA had told Gupta yesterday.

Gupta ordered coffee for them. They drank appreciatively. Gupta pondered awhile, "Okay, I'll stop the train on Saturday. I hear there is an evangelists' meeting there on Saturdays when 300 people use the station."

"Thank you. That'll make the Christians happy. But what about the rest of the population?" asked Ganesh.

"What do you want me to do?" asked Gupta.

"Give us a chance, we cannot go back to our village empty-handed," said Ganesh.

"Okay, I'll stop the train temporarily for a month and then check the ticket sales," said Gupta.

"How many tickets should sell?" asked Ganesh.

"Atleast 10 in each direction," said Gupta.

"Consider them sold," said Ganesh.

"I'll keep my word, you keep yours," said Gupta. He wrote out the order on the letter itself. The clerk's jaw dropped, he stared at the DRM in disbelief. "Stop staring at me like that. I made the decision, I'll take the risk. Just issue the order."

"But, sir!" said the clerk.

"No buts, just do it," said Gupta.

"How do we thank you?" asked Ganesh.

"Drink the coffee and say it's good," said Gupta.

"We'll make sure the tickets are sold," repeated Ganesh.

As they walked out, Gupta started discussing some other topic. Ganesh and Murugesapandi came back in high spirits. Next day, they printed 500 notices thanking Dhauskodi Aditan and S C Gupta for stopping the train. They distributed the notices locally and sent copies to the minister and Gupta.

The train stops at Kurumbur now. They have given the station master enough money to buy 20 tickets every day for the next one month. As for what happens next, we'll let you know.

Photographs: Ganesh Nadar
Illustration: Laura Fernandes back...