Advertisement
March 02, 2007


India's showing in One-Day Internationals away from home is nothing to shout about, nevertheless coach Greg Chappell is hopeful of his team coming up with a good showing at the World Cup.

His optimism exudes from recent victories at home against the West Indies and Sri Lanka after series losses in South Africa, the West Indies and the DLF Cup tri-series, involving the West Indies and Australia last year.

The Australian legend is aware that whatever he has achieved since he took over the team in 2005 is only history, and he will be judged by the showing at the World Cup.

Regarded one of the best batsmen ever to play for Australia, Chappell has had a mixed outing with the Indian team, guiding it to a first-ever Test series triumph in the West Indies and a first Test victory in South Africa.

There was also the downside, like the Sourav Ganguly episode, India's poor showing in the ICC Champions Trophy and the 0-4 rout in ODIs in South Africa.

In an email interview with Special Correspondent Harish Kotian, Chappell dwells on India's preparations for the mega event, beginning March 13.

How has the team shaped up for the World Cup?

I think the team has come together very well in the recent home series.

What positives do you take into the World Cup from the recent victories against the West Indies and Sri Lanka?

The confidence gained and the form of key batsmen and the continued good form of the bowlers is most satisfying.

A lot has been made about Irfan Pathan's form and fitness recently. Don't you think we are putting too much pressure on the youngster?

Irfan is a good cricketer who will bounce back and do good things for India. It is a shame that so much has been made of his recent form and injury. But it seems to be part and parcel of being an Indian cricketer, so players have to learn to cope.

Were you happy with the way the team came back after being beaten 0-4 in the one-dayers in South Africa?

South Africa identified some problems for us, and I think we have been able to offset those problem areas to a large degree.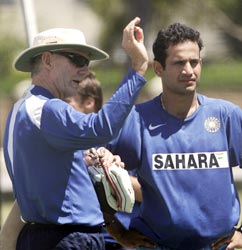 What are the important areas you are working on? Rahul Dravid said fielding is one area the team will work hard on; what are the other areas you have identified?

Fielding will be important, but training for specific roles for each player will also be a priority.

When you took over as coach two years back you had said, 'My vision is for a commitment to excellence for the Indian cricket team, on and off the field.' Have you been successful in achieving that end?

I think we have the best team that we could have for the World Cup, so the answer is a qualified yes. More work still remains to be done in this area.

Having toured the West Indies last year, how do you see the pitches playing?

I think the wickets will vary from centre to centre. So, the teams with most flexibility in batting and bowling will do well.

What is your take on Sourav Ganguly's inspired comeback. How vital a role do you expect him to play at the World Cup?

Sourav's comeback has given us an experienced player at the top of the order that has released Sachin [Tendulkar] for an important role down the order. So, it has been very important.

Lastly, whether India wins the title or not, if you are offered an extension by the BCCI [Board of Control for Cricket in India] will you continue as coach after the World Cup?

I will consider any offer and weigh it up on its merit.

PHOTOGRAPHS: Getty Images



The Cup: Complete Coverage | More Interviews